Detailed Study About How to Record Zoom Meeting
How to record zoom meeting? At one time or another you will probably want to record your meeting or webinar for training, legal, or any other purposes.
Zoom has two types of recordings, local recording and cloud recording. Local recordings, which come standard with all Zoom accounts, are saved to your computer. Cloud recordings, included with all paid accounts, are saved to the Zoom Cloud where they can be viewed, shared, and downloaded.
Both options provide standard MP4 video, M4A audio, and chat text files.
Start recording
After starting your meeting, you start recording by pressing Record on the bottom of your Zoom meeting window. If you have cloud recording enabled, a pop-up will appear asking where you want to record: Record on this Computer or Record to the Cloud. You'll know recording has begun because a red light will appear in the upper left corner of your Zoom window with the words "Recording."
Click on the pause icon if you want to pause the recording.
Now, click on the start icon when you are ready to resume recording.
Click on the stop icon when you're ready to stop the recording.
Your local recording
Your local recordings are stored to your computer hard disk. By default, they're in your Documents folder in a file named zoom. Here are more details on finding your local recordings. You can also enable automatic recording, a setting that is off by default.
Your cloud recording
Your cloud recordings are stored in the Zoom cloud. They are in your Recording tab of your Zoom web portal, which you can password protect, share, and download. This feature is off by default, and is available to paid Zoom Pro, Business, Education, and Enterprise plan subscribers. One great thing about cloud recording is that you can do it from your mobile device, Zoom Room, as well as your desktop.
How to record a Zoom meeting on your laptop
Follow these three steps or take the shortcuts we share:
Step 1: Start your Zoom meeting. Or, hit Command +Control + V to launch a new meeting.
Step 2: Tap the 'Record' button at the bottom of your window. Alternatively, use Alt + R (Command + Shift + R for Mac users). In turn, you'll see a small 'Recording' mark on the upper-left of your screen to indicate your recording in progress.
If you're a paid user, you'll get the option to pick from starting a local or Cloud recording here.
Step 3: Use the 'Pause' or 'Stop' button at the bottom of your window to pause or stop the recording. In terms of shortcuts, use Alt + P or Command + Shift + P for pausing or resuming recording. And, Alt + R or Command + Shift + R for ending it.
| | |
| --- | --- |
| Shortcut | Purpose |
| Command + Control + V | Launch New Meeting |
| Command + Shift + R | Start / End Recording |
| Command + Shift + P | Pause Recording |

How to share recorded Zoom meetings
For local recordings, share the files via email or Cloud sharing services such as Dropbox.
If you're a paid user, Zoom will email you a link of your recording saved in their Cloud once it's ready. Missed the email? Sign in to Zoom and go to 'My Recordings.' Then tap on 'Share' under the recording to get a link from the pop up window.
If you're using Vimeo Record, you don't have to take multiple routes to record, access, and share your recordings. Simply copy the link – ready as soon as you end the recording – to share it with your team.
Better yet, download recordings if needed, organize them into team folders, or directly publish on social media (say if it's a webinar clip you want to share with your audience).
And here's the icing: You can keep tabs on who has viewed your screen recording and responded to it if you're using Vimeo Record.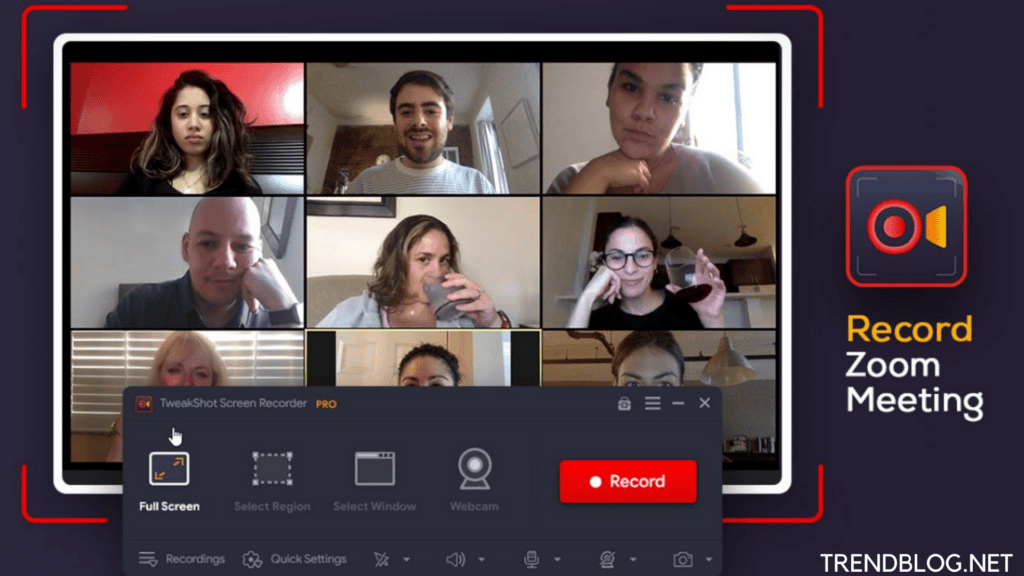 Also read: 
Let us Know How to Restart, Charge, Turn off iPhone 11
Steps to Delete Tiktok Account Using App or Web
Quickest and the Easiest Ways to Merge and Unmerge cells
How to Install Windows 10 Using Step by Step Instructions
FAQS: 
Q1: How do you secretly record a Zoom meeting?
Yes, you can record Zoom meetings secretly using Zoom recorders like EaseUS RecExperts. Firstly, you need to join in a Zoom meeting. Then, launch the recorder and record Zoom meeting videos. The audio source is also optional, and you can record your own voice and the system audio simultaneously
Q2: Will Zoom know if I screen record?
Zoom will detect a screen recording when done within the platform itself. This will notify all participants in the conversation and you can't disable it.
Q3: Does Zoom record your whole screen or just the meeting?
How much of your screen is captured by Zoom, or is it simply the meeting? The entire duration is recorded on a single screen. It will be recorded in Speaker view with the shared screen if the host only provides video. Non-videotaping participants will not be included in the final video.
Q4:Why can't I record my Zoom meeting?
The Recording feature is only accessible in Zoom meetings if your host gives permission. If you don't see the Record button on your screen, it means you have no permission. Your first step is to ask for permission from the host to record the session.