One of the handiest features on the Google Cast Television dongle is its simulcast of Chrome browser tab on large screen. Until now, this feature was only available only through a browser extension. Thankfully, that is not required anymore as Google has launched version 51 of Chrome (Desktop version) that includes built-in Cast option.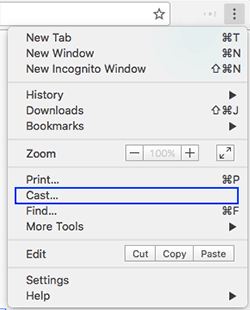 The version 51 of Chrome browser for desktop is rolling out in a phase-wise manner. It might take some time to reach your region, so be patient. The new 'Cast' option is found under the Chrome tool menu (3-dots on top right corner). Also, users can right-click on any tab to access the cast functionality quickly. If the new Chrome update has brought this new option under Chrome's tool menu, then you no longer need the Cast extension. However, those who like using the extension, you can keep it, and it will function like it used to.
Interestingly, the new cast option in the Chrome tools menu automatically sets resolution, quality, and bitrate. With this new update, the system will automatically optimize the streaming service as per the quality of network and content.