Our phones and tablets always take pictures and record memories these days. With services like iCloud that protect our photos, videos, and files, this is easy to do. Not always, though. Sometimes you may need to get rid of some photos or clean up your iCloud space. There are several ways to get rid of photos from iCloud. This will teach you how to properly handle your digital memories.
Why Delete Photos from iCloud?
Because of the following, you may want to delete photos from iCloud before we get to the "how to":
If you're running out of space in iCloud, delete photos to make room for other important files. If the message "Storage Almost Full" keeps coming up, this could be very important.
People are worried about their privacy. We should not show some pictures to anyone. They are safe because no one else can get to them from any other device after you delete them from iCloud.
Getting rid of extra photos and copies will help you keep your iCloud photo library clean. That will help you find and share your favorite memories.
Methods to Delete Photos from iCloud Guide
iCloud is a great way to keep track of all the photos on all of your Apple devices. Still, keep an eye on your iCloud storage to make sure it doesn't get full of pictures you don't need. In this article, we'll talk about some safe ways to delete photos from your iCloud account. By the end, you'll know how to keep your photo library clean and running well.
Method 1: Delete Photos from iCloud on iOS
Follow these steps to get rid of photos from iCloud on an iOS device:
Then click on Settings: To start, open your device's settings. To do this, tap the gear icon on the home screen most of the time.
Enter your name: Tap "your name" or "Apple ID" at the top of the settings menu as you scroll down.
iCloud: Tap on "iCloud" in the next menu.
Photos: Find "Photos" in the list of iCloud apps and tap it.
Choose Which Photos to Get Rid of: As you look through your library, pick out the pictures you don't want anymore.
Finally, click the trash can icon in the bottom right corner. Be sure you want to delete the pictures you chose before you do this.
Method 2: Delete Photos from iCloud on Mac
Here's how Mac users can get rid of photos in iCloud:
Click on the Photos app to open it. Do this on your Mac. Type the word or press Cmd + Space to look for it in the folder called "Apps."
Click on "Photos" in the main menu, then click on "Preferences."
iCloud: Click on the "iCloud" tab in the "Preferences" window.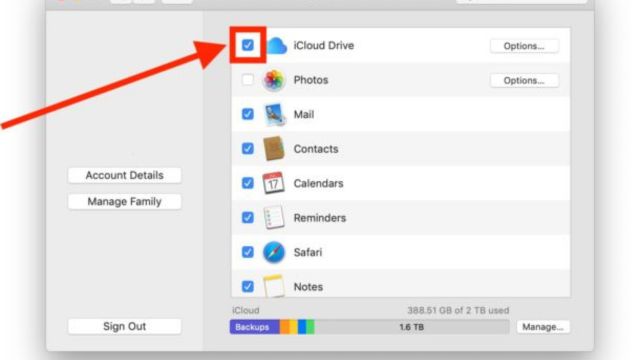 To improve the space on your Mac, open iCloud and click on "Optimize Mac Storage." When you choose this option, your photos will be saved automatically in iCloud at full size. But smaller versions that can be used on phones and tablets will stay on your Mac.
Method 3: Delete Photos from iCloud on Windows
iPhone and iPad users can also take care of their iCloud photos:
For iCloud for Windows, you must first set up iCloud for Windows on your computer. The Apple site is where you can get it.
Once you've set up iCloud for Windows, open it up and look for the "Options" button next to "Photos." Feel it.
Photos: In the next window, make sure that "iCloud Photos" is checked so that your photos can be synced.
Apply: Once you click "Apply" to confirm your choice, your photos will start to sync.
Method 4: Delete Photos from iCloud.com
You can also get rid of photos on the iCloud site. Things to do:
Type iCloud.com into a web browser.
Sign in: Use your Apple ID and password to get in.
Picture: To get to your picture library, click on the "Photos" icon.
Choose Which Pictures to Get Rid of: Look through your pictures and pick out the ones you don't want.
There is a trash can icon in the top menu bar that you can click to get rid of something. Make sure you really want to get rid of the pictures.
Method 5: Recover Deleted Photos
It's possible to delete pictures by mistake. You can get back pictures you forgot about if you do this within a certain time:
iOS: Open the Photos app on your iPhone, iPad, or iPod touch.
Albums: At the bottom of the screen, click on the "Albums" tab.
Recently Deleted: You can find "Recently Deleted" in the Artists view. Feel it.
Select Which Photos to Get Back: Look through the photos you just deleted and select the ones you want to get back. Then press "Recover."
Common Problems and Solutions
It can be hard to keep track of all your iCloud photos at times. Things that go wrong and how to fix them:
Full Storage: If your iCloud storage is always full, you might need to either upgrade to a bigger plan or delete things you don't need to make room.
You can see pictures you've deleted. Photos that you deleted might still be on your phones or tablets. They will be gone for good after 30 days if you don't get them out of the "Recently Deleted" folder.
Photos Won't Delete or Sync: If photos won't delete or sync properly, check the settings on your device and in iCloud to fix the problem. Most of the time, synchronization works better after a small change.
Conclusion
Take good care of your iCloud photo library if you want to keep your digital space clean and ready to go. Getting rid of photos from iCloud is easy when you use the tips and tools in this guide. Every so often, make sure there is still enough space in your iCloud account to save and share your most important memories. To read more content like this, visit https://www.trendblog.net.
Frequently Asked Questions (FAQs)
What does it mean to delete photos from iCloud?
They stay in "Recently Deleted" for 30 days after you get rid of them from iCloud. They will no longer be in your iCloud account after this time.
Can I get back photos that I delete from iCloud?
You can get back photos from the "Recently Deleted" folder for up to 30 days after you deleted them. You can't get them back after this time.
Does getting rid of photos in iCloud make room on my phone or tablet?
It does make space on your device when you delete photos from iCloud. Your iOS device should have the "Optimize iPhone Storage" setting. If it does, this will help you even more.
How do I get rid of photos in iCloud without getting rid of them on my iPhone?
You can do this if you turn off iCloud Photos and keep a copy of your photos on your iPhone. The photos will still be on your device, but they won't be in iCloud anymore.
I want to delete photos from iCloud on my Android phone. How do I do that?
On an Android phone or tablet, open a web browser and go to iCloud.com to manage your iCloud photos. It's not as easy as on iOS.