How to lock the Hidden album in iOS 16 on iPhone
 Until today, iOS users had the option of hiding photographs in the Photos app and hiding that album as well (in iOS 14 or later). How to lock the Hidden album in iOS 16 on iPhone, the solution was flawed, as anyone with experience using an iOS device could quickly view your secret images. Even when set to hidden, the Hidden album still appears in the picture picker when adding media in apps.
Thankfully, iOS 16 implements a feature that has been demanded for a long time: the option to lock secret images on iPhone. Albums marked as "Hidden" and "Recently Deleted" are protected by default and can only be accessed with the use of Face ID, Touch ID, or the device's passcode. It's also possible to disable authentication if you'd rather not lock them.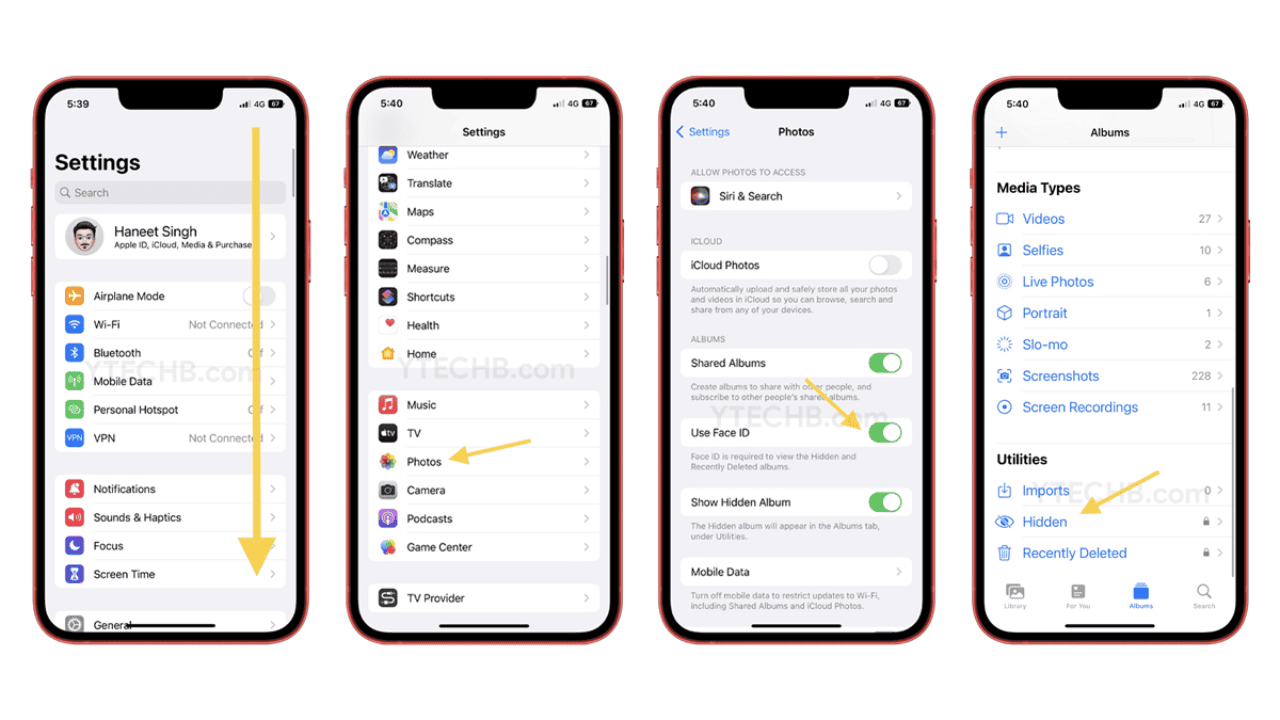 How to lock the Hidden album in iOS 16 on iPhone
If you haven't already done so, update your iPhone to iOS 16 and your iPad to iPadOS 16.

To access the Photos section of the Settings app, scroll to the bottom of the screen.

To use Face ID to protect the Hidden album, you must first activate the corresponding switch.

Optional: To prevent the Hidden album from showing up in the Albums section, turn off the "Show Hidden Album" option. Go to your device's Gallery app, then select Albums from the menu that appears. The Hidden and Recently Deleted albums will now have a lock icon next to them.
Yes, that's the last word. When you open the Hidden album, you'll be prompted to enter your Face ID, Touch ID, or passcode before you can view its contents.
To allow a family member to view your secret albums, simply add their face as a second option in Face ID. You may use this new face to unlock your iPhone and gain access to the secret photos by going to Settings > Face ID & Passcode > Passcode > "Set Up an Alternative Appearance option" and following the prompts.
This is the simplest method for protecting private images on an iPhone. Leave a comment below if you still have questions about how to protect private images on an iPhone running iOS 16. Don't forget to forward this to your friends.
Also Read: 
Turn On Spatial Audio Feature AirPods Pro Using iPhone, Mac, Apple tv
How to put your iPhone or iPad into recovery mode
How to Update Airpods 2 Firmware Without iPhone Using Quick and Easy Ways
Massive Discount on iPhone 13 Prices are Getting Down
FAQs: 
Q1: Can I lock photos on iPhone with Face ID or Touch ID?
However, you can't password-protect your iPhone's photo album or gallery. However, in iOS 16 for iPhone and iPad, you may secure the secret folder within the Photos app.
Q2: Why should I password protect the Hidden album?
If your secret album contains sensitive or personal photos or documents, you may want to restrict access to it. When you need to share your iPhone's images with someone else, you may feel the urge to protect your privacy by hiding certain albums. You wouldn't want them looking through your personal images, though.
Q3: Can you put a password on your hidden Albums?
You can't use a passcode, Face ID, or fingerprint to "lock" the secret album or access the photos within it. The biggest problem is that all of your secret media is in one place. When your phone is unlocked, anyone with access can easily access your Hidden folder.
Q4: Can we Lock apps in iPhone?
The iPhone's built-in Screen Time function allows you to restrict app usage. It allows you to restrict access to all applications except the phone. It's straightforward, but you should know that it can only lock an app for a limited period of time and that it requires iOS 12 or later to utilise.
Q5: Which app lock is free for iPhone?
In contrast to Android, where a plethora of dedicated applications exist for locking specific programmes, the iPhone does not yet support any official third-party lock apps. Methods such as BioProtect, Locktopus, and AppLocker, which are available as add-ons, are the best method to achieve this. Only iPhones that have been jailbroken can use these programmes.