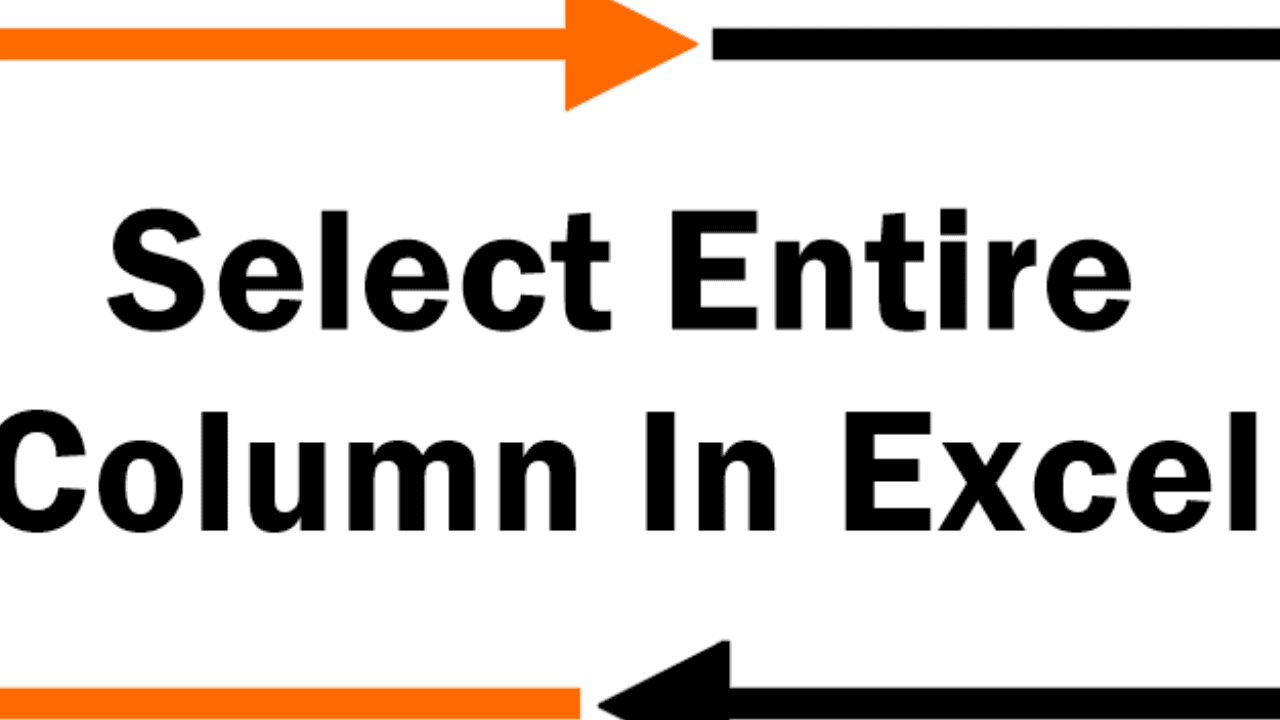 How to Select the Entire Column in Excel Table
How to select the entire column in excel. In this article, we will learn how to select an entire column in excel and how to select whole row or a table using keyboard shortcut keys. While preparing reports and dashboard in Excel, it's time-consuming to select an entire column using the mouse. These excel shortcuts are useful to save time and help you do your work faster using the keyboard shortcut keys. How to select row with the Excel shortcut?
How to select the entire column in excel
Selecting cells is a very common function in Excel. It performs many tasks like addition, deletion and width adjustment of multiple rows and columns while applying the formula on data in Excel. Shortcut keys to select all rows and columns can provide an easier and quicker method of using MS Excel 2016. 
Select one or more cells Using Shortcut (Shift+Arrow)
Click on a cell to select it. Or use the keyboard to navigate to it and select it.

To select a range, select a cell, then with the left mouse button pressed, drag over the other cells.




Or use the Shift + arrow keys to select the range.

To select non-adjacent cells and cell ranges, hold Ctrl and select the cells.
How to Select Column in Excel Using Keyboard Shortcuts (CTRL+SPACE)
While navigating on an excel sheet with large data, excel column selection is very basic yet important task. Let's see how easy is selecting columns in excel.
Select any cell in any column.

Press Ctrl + Space shortcut keys on the keyboard. The whole column will be highlighted in excel to show the selected column. You can also say that this is a shortcut to highlight column in excel.
If you wish to select the adjacent columns with the selected column, use Shift + Left/Right arrow key(s) to select entire columns left or right of that column. You can go either way but can't select both sides of column.
Let's Select Entire Columns C to E
To pick out C to E, choose a cell in the third column.

To go to column E quickly, press Ctrl + Space on your keyboard (Leave the keys if the column is selected).

You can now choose columns D and E in tandem by pressing Shift + Right (twice).

The keyboard shortcut Shift + Left (twice) will select columns C:A.

By using Ctrl+Shift+Left, you can choose columns all the way to the sheet's end.

Excel's Ctrl+Shift+Down arrow shortcut lets you pick the entire column starting at a given cell.
No of where you begin your selection, you will not be able to include columns A–E in your final selection. Again, in Excel, you can only choose adjacent columns from the left or right.
How to Select Entire Row Using Keyboard Shortcuts in Excel (SHIFT+SPACE)
In Excel, you can select several rows with this function. To select a row in Excel quickly, you can use this method instead.
The row cell you want to pick is the one you click on.

To choose the row above the active cell, press the Shift+Space combination (release the keys, if the row is selected).

By pressing Shift plus the up or down arrow key, you can choose the rows above or below the currently chosen row. There are two possible directions, but you can't get to both of them.
Selecting 3rd to 5th whole rows of the sheet can be done in two ways:
To pick the third row, press the Shift + Space combination on a cell in that row.

To pick the fourth and fifth rows, press Shift and the down arrow key twice.

Alternately, you could proceed from the fifth row to the third, albeit beginning with the fourth, you would be unable to make that choice along with the fifth.
Select one or more rows and columns
The full column can be selected by clicking on the letter at the column's header. You can also use the Ctrl+Space keyboard shortcut after selecting a column cell.

All of a row can be selected by selecting the corresponding row number. You can also hit Shift + Space after selecting a row cell.

Hold down Ctrl and click the row or column numbers to select a range that does not contain adjacent rows or columns..
Select table, list or worksheet
Use the Ctrl + A keyboard shortcut to pick an entire table or list by clicking anywhere inside the table or list.

Use the Select All button in the far left corner of the screen to choose the entire worksheet.
Note: When you choose a cell, it can also pick up a few neighbours.
Also Read:
Split Cells in Excel in Windows, macOS, Web: 2022 Updated
Remove Duplicates in Excel: Easiest way to Get Rid of Duplicates in Excel
Alienware x17 r2 Gaming Laptop Specs, Pros and Cons with Features
In-depth Comparison between the OnePlus 9t vs OnePlus Nord 2t
FAQs: 
Q1: How to apply formula to entire column?
Simple, just enter the formula in the first cell of the column, hit CTRL + SPACE to select the entire column, and then click CTRL + D to apply the formula to the entire column.
Q2: How to select all in excel?
To select all data press CTRL+A.
Q3: How to highlight a row in excel?
To highlight a row, choose a cell in that row and hit the Shift key followed by the space bar.
Q4: How to select multiple cells in Excel mac?
To select multiple cells, you can use the command key combination to do so. You can use the command-click method to select nonadjacent cells.
Q5:
How do you select a large range of cells in Excel without scrolling?
To choose an entire range, start by clicking the first cell. Just keep scrolling down until you reach the last cell in the range you wish to pick. Do this: while holding down the Shift key, click that cell. Currently, the entire range of cells has been selected.