How to set up Alexa Echo? Alexa, Amazon's virtual assistant, is capable of several tasks sometimes even not possible for others. Well, the list of functions will not end but still, we have to see the need of today's busy crowd and she is designed for the same. She may give a response to your queries or set a timer for you and so many home-based alerts like controlling home devices, switches and lots more in the pipeline.
In case you have already received your Amazon Echo, we are here to guide you for the set of that. But before we start you must get the Alexa app updated in your mobile app.
How to Set Up Alexa Echo
Now when you are ready with the downloaded or updated Alexa app on your mobile. Then let us start the process to set up.
You just Plug in your device.

Switch to open the Alexa app.

Then select Open More and choose Add Device.

After that click on Amazon Echo from the devices list.

Then choose Echo, Echo Dot, and more. 

Now as you have selected your Echo device, You must check for "Have your Wi fi password handy" to have all the login data for the supported streaming of music, videos providers.

Now just set your Echo show into an outlet. It will not take a minute that Alexa will get on along with the display and wish you.

Now follow the guidelines given on the screen and connect to the Wi-Fi for the availability of Amazon services or facilities.

Now as soon the process gets completed, just speak "Alexa" to get up and wake up your Echo system. After that, you are free to ask Alexa for the services such as watching a show or any recipe or wanting to do a video call etc.

You can catch access to settings for shortcuts for music, smart home etc.
 And that's it. You had got all the facilities to enjoy now. Now we can further see to set up Amazon Echo along with Alexa.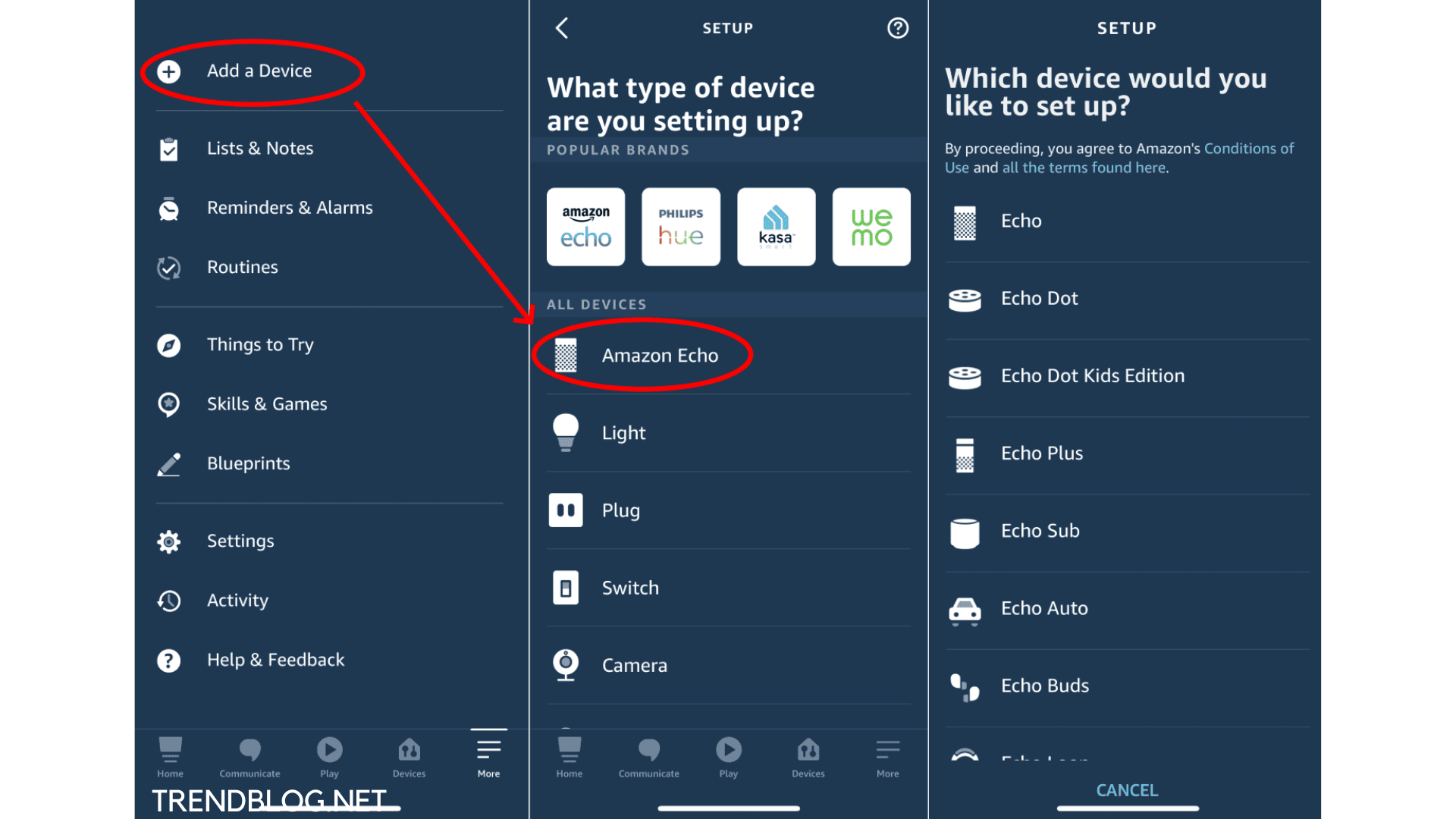 Can We Set Up Alexa on an Amazon Echo?
 You are fortunate one if you had just got the Amazon Echo unwrapped. Very soon Alexa is going to listen and respond to your conversation but you have to ask her. Just follow:
Now connect your Echo to the power 

Download or Install the Amazon Alexa app on your device or phone

Click the Devices option, then press the + sign

By following the on-screen guidelines connect the Echo to the available Wi-Fi and feed the password 

So, now Alexa is here to respond to your commands along with her skills.
Now as the process is done. Let us see further more details given below.
Also Read:
How to Put Alexa in Pairing Mode Within Minutes Using Effective Methods
Alexa Flashing Yellow Light: Stop Deactivate, And Turn off Notifications
How to Hard Reset Your iPhone SE Using DFU, Recovery Mode or Manually
Turn on Noise Cancelling on AirPods Pro in Settings
Is It Possible to Set Up an Echo or Echo Dot?
First, attach the power supply cable and plug it into the main socket.
Now you can easily detect the LEDs lightning and just after a few seconds Alexa will be informing you to complete the process of setting up.
So we are thinking that you had already downloaded the Alexa app of Amazon on your Android or iPhone devices or on Amazon tablet too.  
Now as soon you open your Alexa app, you may get a message for setting up the new Echo. If it is then follow the guidelines and if not then just press on devices and navigate to add with + sign at the top of the screen.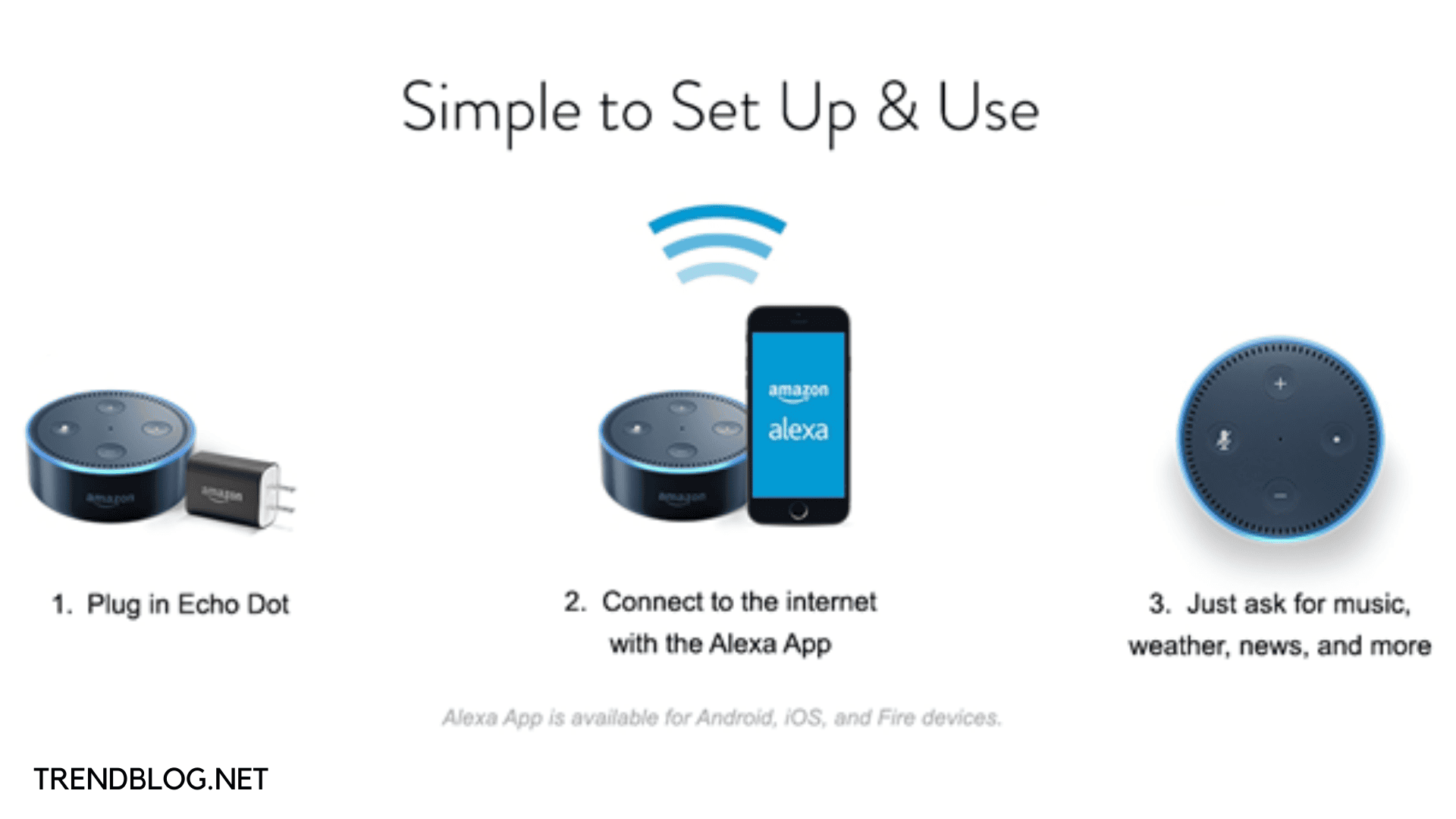 Press add devices and select Amazon Echo.
Tap on the "Amazon Echo, Echo Dot, Echo Plus and more" option and then press on the selected echo model you have.
You will see an orange light there, but in case you do not have then just set it. The process might be different for other devices and that you have to see. As per the guidelines just press and hold the action tab for some seconds till you get the orange light and that's it. 
Then you got the lighten up your orange light, press YES for the confirmation that your Echo is in setting up mode now. This app will after searching for the device and the network formal name of your Echo appear in front of you.
Select the Wi-Fi network that you wanted to connect with. Then when it prompts for the password, just fill it and as soon the processing of that is done, a message comes in front that your Echo is online.
Well as Alexa does the confirmation of readiness from her side only except others who all want external speakers connections. 
Congrats! You are now able to interact with Alexa and ask as per the question in mind or some work that has to be done easily like just say" Alexa what is the time now?", She will respond with the correct time.
I tried my best to provide you with a piece of detailed information about the How to Set Up Alexa Echo. If you want to share something related with us and our 1lakh followers, feel free to share with us in the comment section. Also, if you have any queries you can ask us in the comment section below