1Password is one of my favourite apps all time. It's hands-down the best password manager out there and makes my digital life much easier. So what does it do? It's a highly secure and encrypted digital-vault that contains all your passwords and credit card details. As the name already implies, you only need 1password (or fingerprint) to access all your data which is really helpful. When you use this password manager on your computer or Mac, you're also able to access it directly on your iPhone or iPad running iOS 8.0 or newer. This can be done via the app on your mobile device or even when browsing the internet using Safari. In the following
Requirements
The list of things that you need to access your 1Password vault on your iPhone or iPad is quite short. It's probably the setup that you already have, but here are the details:
1Password for Mac or Windows
Vault synced with iCloud or Dropbox
1Password for iOS
iOS Device running iOS 8.0 or newer
If you're not sure if you synced your 1Password vault in the cloud you can simply check this in the app preferences. Go to Preferences -> Sync and check if the vault is synced with your Dropbox or iCloud. Be aware that iCloud sync is only available when you purchased 1Password on the Mac App Store.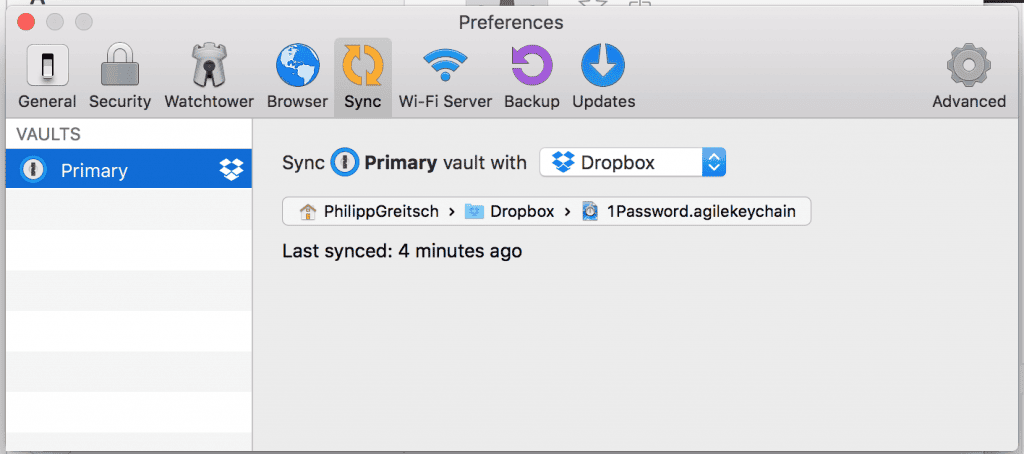 Next, you should make sure that your 1password installation on your iPhone or iPad is connected to the same vault. To do that, go to the app Settings -> Sync and make sure that it's using the correct Sync Service and vault. We're now ready to head over to implement 1Password in Safari.
How to enable 1Password in Safari for iOS
In this step we'll add the 1Password extension to Safari so that you're able to access it while browsing on your smartphone. Here's what you need to do. If you're more the visual type, scroll down to see screenshots.
Open Safari
Go to a website
Press the share button
Scroll all the way to the right and open the more menu
Activate 1Password
You can now move the shortcut all the way to the left so you can easily access it
When you need to enter a password or credit card details, just open the 1Password shortcut, unlock using your password or fingerprint and select the right details. That's it!
As promised, here are the screenshots for the more visual folks:
That's it. You can now access all your passwords while browsing on your iPhone or iPad – always accessible with a short touch. Enjoy!