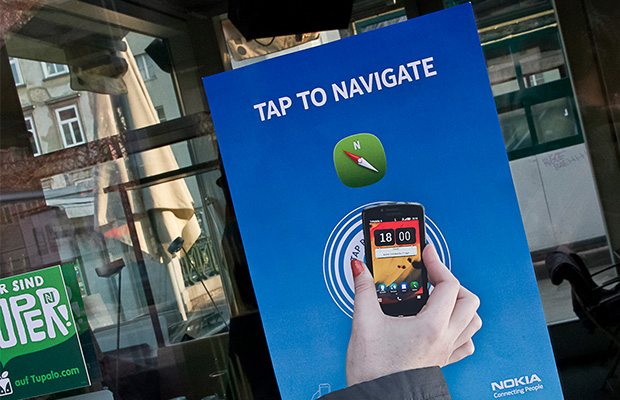 Three NFC Marketing Campaign Best Practices
The amount of NFC (Near field communication) enabled devices is growing every day. Although Apple decided not to include NFC in their latest iPhone, I'm fairly sure that NFC will play an important role in the future of mobile marketing, payments and how we use mobile phones in our everyday life. Read further to learn about three NFC marketing campaign best practices and how marketers can engage with consumers using NFC.
Understanding the NFC technology
Near field communication works in two different ways: The user establishes a communication connection either between two NFC enabled devices or a device with an unpowered NFC chip called "tag". Typical uses of NFC include file transfers, contactless payment systems or wireless ticketing.
Reasons why we don't see many NFC campaigns yet
Many marketers all over the world are not yet aware of the marketing possibilities NFC offers due to several reasons: (1) NFC can't be seen as a mainstream technology yet and (2) it will probably take three to five years before it becomes a common feature on smart phones. Others try to create more engagement by using QR codes or focus on classic advertising strategies.
Nevertheless, some companies like Samsung, Nokia or 20th Century Fox are already using NFC to create user interaction and brand awareness. See below for three NFC campaign best practices.
Samsung "Share to Go" Posters
Samsung placed several NFC-powered posters all over the USA that offer Samsung Galaxy III users exclusive songs, e-books or videos by simply tapping their phones over the NFC tag. This campaign raises both brand- and product awareness while giving the consumer a reason to scan the tag. At the same time it can be used to promote artists, new publications or upcoming movies.
Nokia & VOX Cinemas in Dubai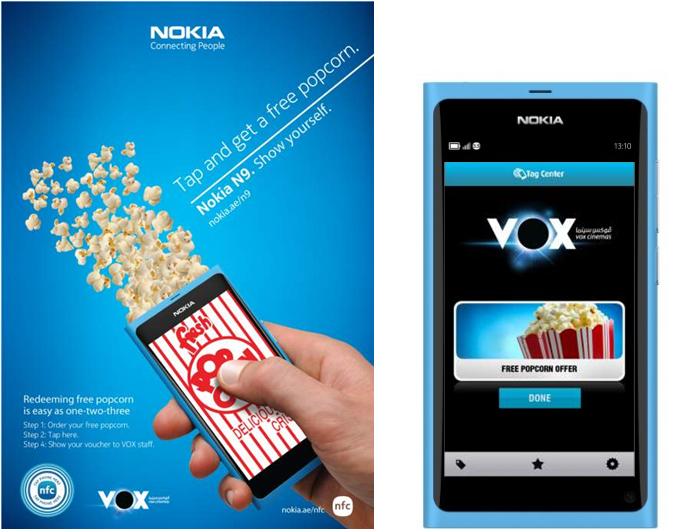 Nokia N9 users were able to get free promo vouchers for goodies like movie tickets or popcorn by tapping their smartphone to a stand or poster with a built-in NFC tag. This campaign was tied to Nokia N9 users in Dubai only, but it clearly shows how to offer users an added value to their mobile devices by teaming up with other services. Vouchers were only redeemable during the weekend and within a limited amount. This campaign won the Best Marketing Campaign using Contactless / NFC Technology Award at the Contactless Intelligence Awards 2012.
20th Century Fox: X-Men First Class
20th Century Fox teamed up with UK based NFC mobile commerce company Proxama, JCDecaux and Posterscope to display NFC based movie posters in London. The X-Men First Class movie posters offered exclusive video content and a link to the movie's Facebook fan page while supplying 20th Century Fox with detailed analytics about poster locations and video views. You can see this as a way to actually measure the impact of classic poster advertisements which is pretty cool!
Final thoughts on NFC for marketing campaigns
Although the amount of NFC marketing campaigns seems to be quite limited in terms of diversity and number of campaigns performed so far, I am pretty sure that the next months will bring more progress as NFC enabled devices get more common and non-mobile device producing companies will jump on board of the NFC campaign train. While it is understandable that consumer electronics producers try to limit their NFC campaigns to their own devices, I would love to see more companies interact with their consumers using this interesting technology.
What do you think about it? Have you used NFC for marketing purposes yet? Would you use your phone to interact with a brand? Tell us about your experiences in the comments!
Image courtesy of tupalo.com via Flickr
6 thoughts on "
Three NFC Marketing Campaign Best Practices

"