Update: In October 2013, almost two years ago, I have published the original post about my thoughts on the rumored iPad Pro. You can read the unchanged post below.
So Apple launched its newest lines of premium tablets – starting with the original iPad Pro. In short, it's a larger, more expensive 12.9 inch iPad Air with a better processor, that works with additional Apple accessories like the Apple Pencil and the Smart Keyboard. These are obviously not included in the iPad Pro's price. More on that below.
Original iPad Pro Ad

Technical Specs
Display: The new iPad Pro packs a 12.9 inch Retinal display at a 2732-by-2048 resolution (264 ppi, same as iPad Air vs. 220 ppi in Retina MacBook Pros).
Processor: brand new A9X 64-bit chip with the Apple M9 motion coprocessor, designed specifically for the iPad Pro.
Battery: up to 10 hours of surfing, videos and music on Wi-Fi, up to 9 hours over cellular network
Storage: 32GB or 128GB. Cellular model with 128GB only.
Wireless: Wi-Fi only models and Wi-Fi + Cellular. Wi‑Fi (802.11a/​b/​g/​n/​ac), Bluetooth 4.2, LTE (Bands 1, 2, 3, 4, 5, 7, 8, 13, 17, 18, 19, 20, 25, 26, 28, 29, 38, 39, 40, 41)
Additional: no USB-C support (!!!), comes with Apple Pay, Touch ID and iOS 9.
Colors: much like the iPhone, the iPad Pro comes in Silver, Gold and Space Grey
Pricing
The Wi-Fi + Cellular model costs more than a new 13-inch Macbook Air.
Wi-Fi: 32GB at $799; 128GB at $949
Cellular: 128GB at $1079 (vs. $999 13-inch MacBook Air)
Apple Pencil: $99

Apple Pencil demo video
Launch Date and Availability
Unfortunately, Apple hasn't revealed a certain date for the public release of the iPad Pro. All we know is that the new tablet will hit the market in November 2015.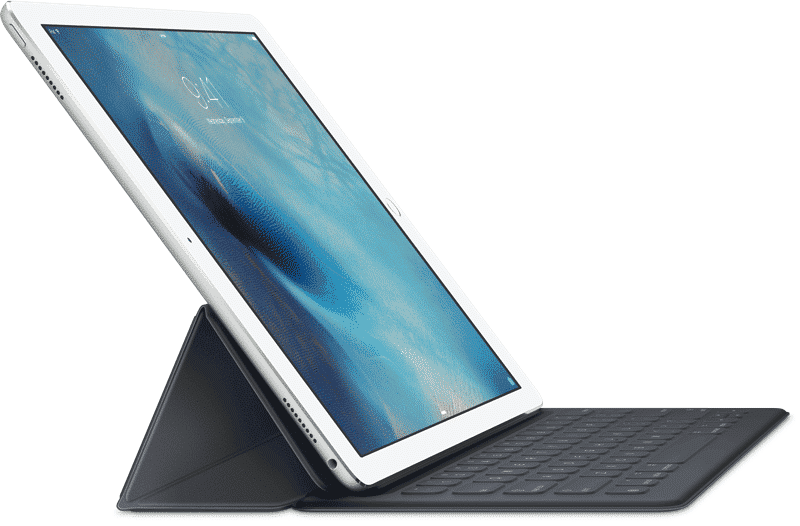 What we got right and wrong two years ago
Right:
64 bit processor
Touch ID
8MP camera
Gold case option
128GB storage
Oh so wrong:
larger 12.9-inch display
absence of upgraded Lightning connector
no 256GB option
starting at $529
[su_divider top="no" style="double" divider_color="#b4b4b4″ size="1″]
Thoughts from two years back – unedited
In the last few days, right after the announcement of the new iPad Air, numerous authoritative websites and blogs have reported on the rumour of an iPad Pro. Apple is supposed to release it next year, introducing a new (not replacing) a new line of iPads. We have seen all kinds of ideas on the iPad Pro. But how real is the thought of Apple releasing a "Pro" version of its most successful tablet really?
Two product lines of everything
Let's look at what happened in the last couple of years:
Apple releasesed two new versions of the iPod Touch, 16GB low-end with no camera and the high-end iPod Touch with up to 64GB of storage and a rear camera
Release of the "affordable" iPhone 5c and the high-end iPhone 5s (even comes in gold)
After getting rid of "normal" MacBooks, Apple is left with two lines of MacBooks: Macbook Air and MacBook Pro (each screen size in low- and high-end)
Release of the iPad Mini with Retina display and the 1st generation iPad mini is still being sold
You get the point.
So now that we have two product lines for every major Apple product, what are we missing? A fresh second line of iPads. In my opinion, an iPad mini (no matter what screen or generation) can not be thought of as an "affordable" version of the iPad.
Apple's move towards affordable products
Apple has always been positioning all of its products as premium and up-class. But over the last few years Apple has slowly moved towards selling those premium products along with their affordable counterparts.
Just look at what Apple said about the new line of iPhones.
iPhone 5s – "Forward thinking. Precision crafted. […] with an amazing amount of technology…"
iPhone 5c – "For the colourful. iPhone 5c [comes in] five anything-but-shy colours…"
At the last Goldman Sachs Technology Conference Tim Cook has mentioned that Apple was surprised by the incredibly high demand for the iPhone 4 after the release of the iPhone 4s. What this shows is that there is demand for slightly cheaper Apple products, even if the hardware in any given device is not the latest one.
"We are making moves to make things more affordable…" – Tim Cook
Chances are that we will see an iPad Pro next year
There is a market for affordable Apple products. Tim Cook is very aware of this fact. And the only thing Apple is missing is an new affordable product line of iPads, which would replace the iPad 2.
Introducing an iPad Pro next year will give Apple the opportunity to drop the iPad Air's prices, position it as the affordable counterpart of the iPad Pro, and, finally, create a premium version of Apple's legendary iPad. As we see Apple move towards installing a Retina display in all of its MacBooks, this will also be an opportunity to begin doing the same with iPads.
Since the release of the iPad Air we all have been hearing a lot of thoughts on whether Apple will actually release an iPad Pro next year. Some have even suggested that the iPad Pro would have a 13 inch screen. Let's assume for a moment that the idea of the iPad Pro is actually real… how would it look like and what features would it have?
What the iPad Pro could look like
As we all know by now, when Apple calls something "pro" it doesn't mean that the device is meant for professionals only. The new low-end 15-inch Retina MacBook Pro doesn't even have a dedicated graphics card on board.
So how would an iPad Pro look like in terms of exterior and hardware? Let's think one year ahead. Here are some (hopefully realistic) predictions:
The new iPad will ship with a new 64bit A8 processor, leaving the lower-end iPad Air with the slightly improved A7x.
9.7-inch screen
The screen resolution will stay exactly the same for a number of reasons: more pixels consume more power, higher dpi will not significantly affect the experience and developers would have to adjust all apps for a higher resolution.
iPad Pro will come with Apple's new TouchID fingerprint sensor
Will come with 16, 32, 64 and 128GB of storage. Storage capacity can depend on how flash storage prices will change over the year, meaning that if prices will drop Apple could possibly start at 32GB and sell iPad Pros with up to 256GB of flash storage.
The rear iSight camera will be upgraded to 8MP with ƒ/2.2 aperture (after all it's a "Pro" device)
A new and improved Lightning 2 connector, capable of USB 3.0 data transfer speeds
Increased battery capacity to power the new processor, but still the same 10 hours of battery life
2GB of RAM, still not making full use of the new 64bit architecture
Same exterior of the iPad Air to fit all accessories
Could possibly come in gold (apparently it's a thing now)
iPad Pro will start at $529, while the iPad Air's price will drop to $429
Please stop the 13-inch iPad Pro nonsense
Tablets are made to be portable. They are made to be carried around in bags, in jacket pockets (for 7" tablets), in briefcases and in your hand. With a tablet you can have easy access to entertainment and be productive on the go.
All 7-inch tablet owners know that as soon as you pick up a 10-inch tablet you are surprised by how much it actually weights. And now imagine carrying around a 1.3 pound tablet, which is almost twice the weight of the iPad mini.
To make a 13-inch iPad, Apple would need to come up with a unique selling point for it first. And I, personally, don't see how people could make use of a 13-inch tablet. Even for professional use, it would make more sense to buy a 13-inch MacBook Pro for a few hundred dollars more, but have a full installation of Mac OS X with all its features, all the hardware and connection ports.
Also, a larger screen will require a larger battery, higher resolution (to keep it Retina) and all apps would have to adapt to it. This is not an option, since Apple relies heavily on the app developer community.
Conclusion
With all the changes we have seen over the last couple of years, a release of an iPad Pro is very likely. It would be positioned as a premium counterpart of the iPad Air, with the latest hardware and other features, such as TouchID. A 13-inch iPad Pro is very unlikely to be seen in the next few years, since there is simply no unique selling point to it. Yet.
What do you think of the idea of an iPad Pro? Would you love to see one on the market? And what kind of features and specs are you looking forward to see? Please share your thoughts in the comments and share this post with your friends.