These days everyone is aware that going online can be very dangerous. Most profitable jobs in the world are relying on the information. So keeping your information safe is very important. As much as for individuals, that much for business purposes as well. That's why so many people and organizations are using VPN services. If you use a VPN service provider, you will most likely face Tap – Windows Adapter v 9.21.2. 
When we see something unknown installed on our computer, we instantly think of a virus, which in most cases is the proper conclusion. But this time, we are going to disappoint you. Tap- Windows adapter is the default component that is usually installed together with your VPN client. There are two different ways to use a VPN service. You can have a browser extension if you won't find this issue, but if you are using the full package of the VPN service, keep in mind that Tap- Windows adapter will be installed on your device.
Many people reported an issue with the Tap-Windows adapter, but only because they didn't know its purpose. If you are planning to use a VPN to make private connections, you might have problems with it. Why is that happening is simply because it's interfering with your connection, and it's almost impossible to get a stable internet connection?
VPN networks are essential, and they are recommended by most branches that are doing business online.
If you are using a VPN, you already know why you are using it. There is no further explanation needed, but we honestly hope that you are using it for good.
Tap – Windows 9.21.2
To find the Tap-Windows adapter, you can check in your Apps & features or Device Manager. Since it's technically a driver, it's installed in C:/Program Files/Tap-Windows folder. Of course, the different operating systems will require an additional adapter, but most likely, you will have NDIS – 6 drivers in the form of "Tap-Windows driver v9.21.x". On the XP operating system, it's NDIS – 5 drivers.
As we mentioned above, the only reason why this adapter can give you a headache is when you are using it to establish a private VPN. Otherwise, it's entirely harmless for your device, and you can keep it running. If you have made a slight change to your VPN connection or you have decided to delete your VPN client, this folder will still be on your computer and might interfere with your connection. In that case, you will need to delete it from the system completely.
It happens from time to time that Tap-Windows Adapter gets corrupted, and you will need to reinstall it.
Now we will give you a step-by-step procedure on how to reinstall Tap-Windows Adapter & how to remove Tap-Windows Adapter from your computer.
It might seem like it's the hard work required, but it's a straightforward procedure.
As long as your VPN client is running, it will be pointless to attempt reinstalling this adapter. So in the first step, you should dismiss all your connections and shutter your VPN client.
At the bottom left corner of your screen, find "Windows Search Bar," or you can simply use WINDOWS + S shortcut to open it. Type "Device Manager" and click on the first match given in the results list.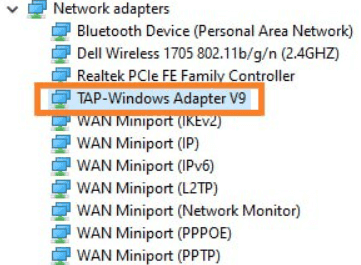 Find the "Network adapter" section, and in the list, locate your Tap-Windows Adapter 9.21.x. You might see as well your VPN client name in the list, i.e., "ExpressVPN Tap –Windows Adapter." If besides the icon, you see an exclamation mark, that means that you should reinstall the adapter. In that case, right-click on the adapter and click on "Uninstall device." Follow a simple procedure given in the wizard.
Since your Tap-Windows Adapter is uninstalled, now it's time to install it again. To do that, open your VPN client. Since you don't have the required network driver installed on your device, installing the wizard will ask you to approve its installation. After installation is completed, try to connect to the VPN network and check if all previous problems are solved.
Note: If the installing wizard just informs you that you have a missing driver, reinstall the VPN client completely. In that case, Tap-Windows Adapter will be installed together with the VPN client.
An alternative option is to visit the website of the VPN provider and download the driver manually.
To remove any program, we are usually looking for a Device Manager. Since the VPN client will most probably ask us to install the missing driver every time you start the VPN client, we need to avoid this step. Therefore, the procedure will be a bit different than usual.
In "File Explorer," find C:/Program Files/Tap-Windows folder. In the folder, double-click on the uninstall.exe file to start uninstalling the setup. After following on-screen guidance, your problem should be solved. Sometimes it happens that the Tap-Windows adapter is still there.
If you want to eradicate Tap-Windows Adapter, we will show you only known, so far, the procedure for it. Press WINDOWS + R to start Run Utility and search for appwiz.cpl. In the Program & Features window, navigate to the VPN client you are using, right-click and click on "uninstall." After following on-screen instructions, your VPN and Tap-Windows Adapter will be uninstalled completely.
We hope this guide helped you understand why you are finding this Tap-Windows Adapter on your system and why your VPN connections might be interrupted.
I would like to recommend you a couple of VPN providers I personally think are the best. You can use ExpressVPN, NordVPN, CyberGhost. It all depends for what you need it and how much are you willing to pay.
What VPN service provider are you using? What issues are you facing, and did this guide help you solve the Tap-Windows adapter's mystery? Let us know your answers in the comment section below.
Editors' Recommendation