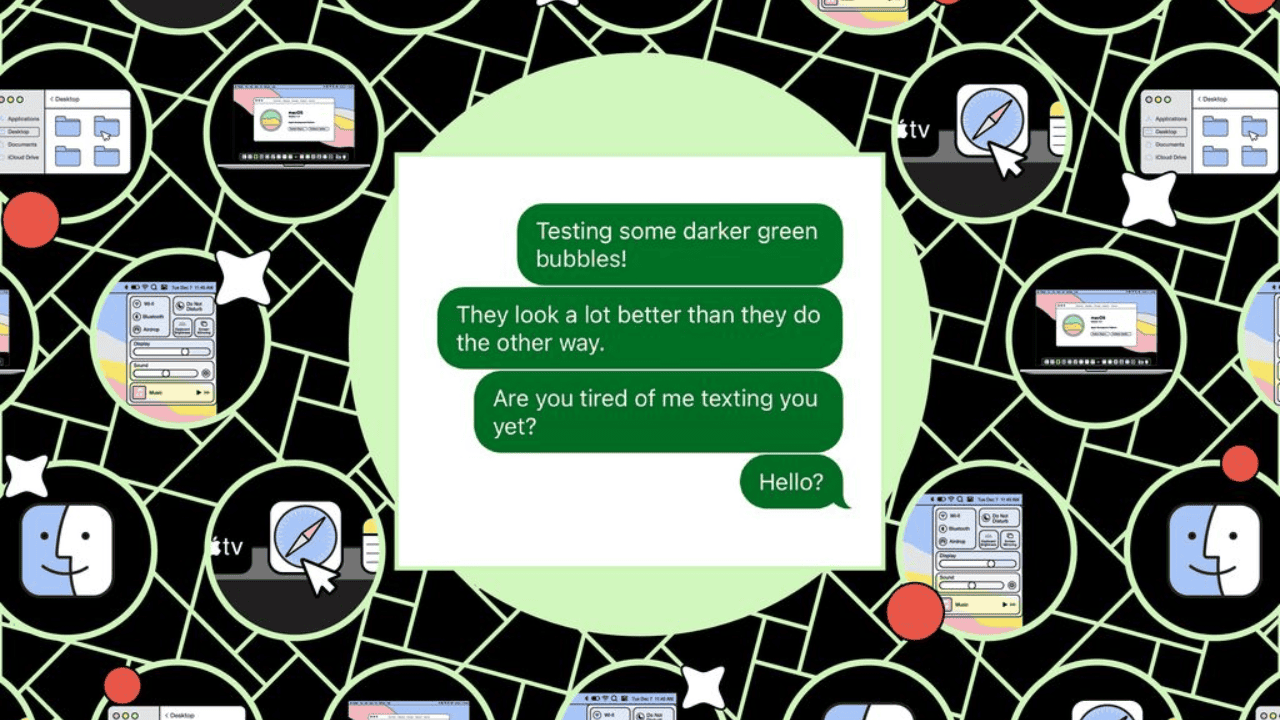 How to Make Bubbles to Read Messages on iPhone
Everyone loves bubbles when messaging but sometimes there is a problem such as how to make bubbles to read on iphone. The Messages app is one feature that sets iPhone and iPad apart. In addition to the popular "blue chat bubbles" with youngsters, you may add entertaining effects to iMessages that you send. 
That includes text-bombing, loud, mild, or undetectable effects for iPhones and iPads, as well as effects that transform the entire screen into balloons, confetti, lasers, fireworks, or shooting stars. On the greatest iPhones and iPads, including the iPhone 13 Pro, follow these instructions to spruce up your iMessage. Let us get to know how to make bubbles to read on iphone, change the color of the bubbles, cancel the bubble effect and so on. Lets get started.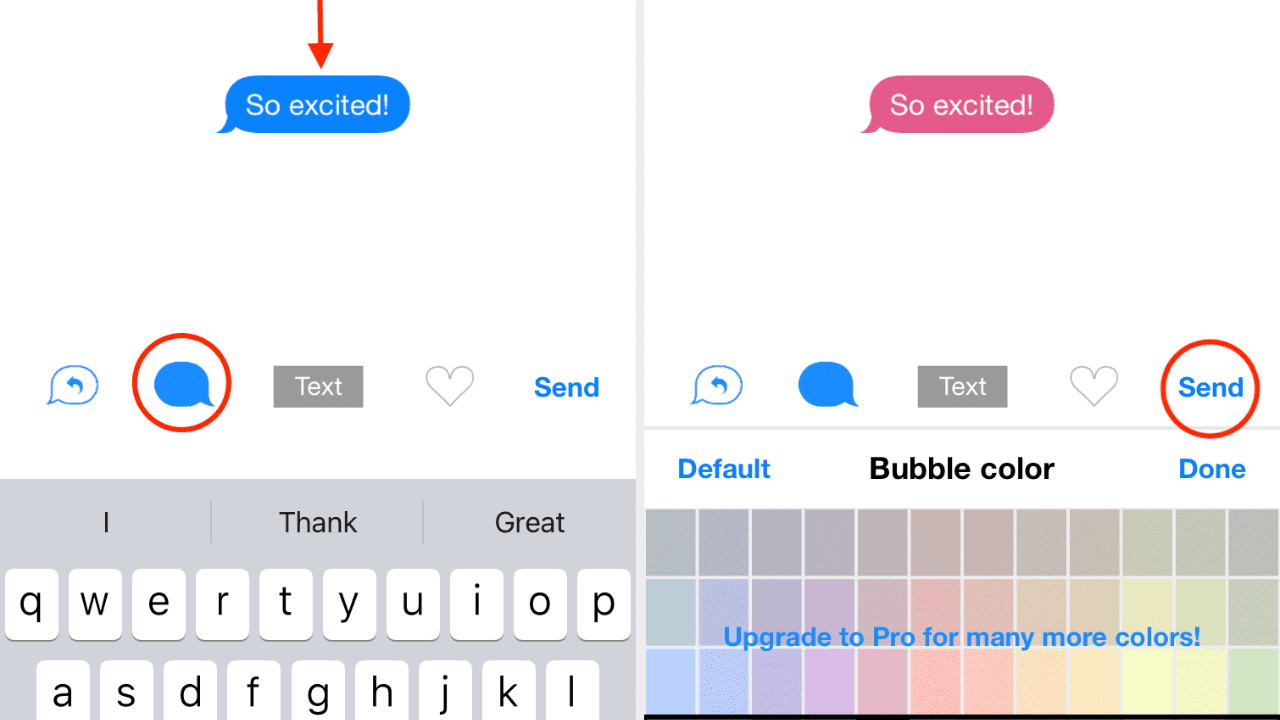 How to make bubbles to read on iphone
To make bubble texts more readable, you'll have to dive a bit into your iPhone's settings, but the option is easy to turn on once you know where to look. Here's how to do it:
Launch the Settings programme.

Select Accessibility.

Per-App Settings can be found by scrolling to the bottom of the Accessibility menu.

After selecting Add App, look for or select Messages.

The Per-App Settings page will now display messages. After tapping it, select Increase Contrast > On.
Then, head over to the Messages app and locate the most recent conversation in which you used text messages rather than iMessages. Your messages will be a darker forest green rather than neon green, which I think looks much better.
You should be aware that this setting boosts contrast throughout the Messages app, so you might also notice a few other changes. For instance, the text input field's border in iMessages has a more pronounced contour and is a much darker shade of blue.
How do i add bubble effects to imessage
Firstly, enter your desired message. 

Press the Send button repeatedly (looks like an upward pointing arrow).

If not already selected, choose the Bubble tab at the top.

Now, you can apply Slam, Loud, Gentle, or Invisible Ink by tapping on the appropriate effect.

Swipe to the right of your selected effect, tap the Send button (it looks like an upward pointing arrow).
How to cancel the bubble effect in imessages 
Tap the Cancel button at the bottom of the effects list if you decide against sending a bubble effect (it looks like an X).
What are the uses of bubble effect in imessages
Slam: Down with a stamp, causing the screen to tremble.

Loud: Sends a massive bubble that trembles before landing.

Gentle:sends a softly slipping bubble that is quite little.

Invisible ink: until you swipe it out of the way, a blurred and animated noise surrounds the bubble.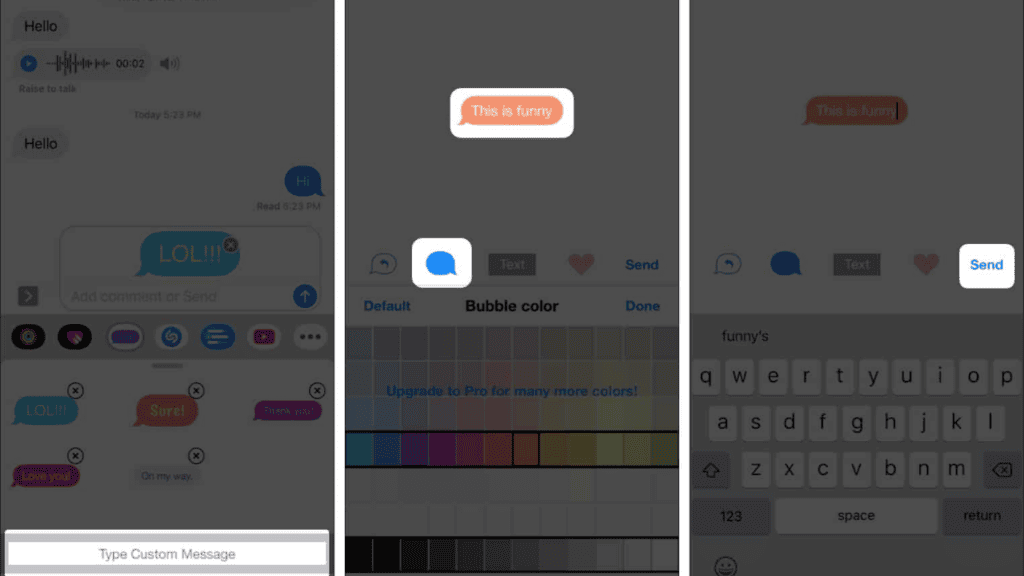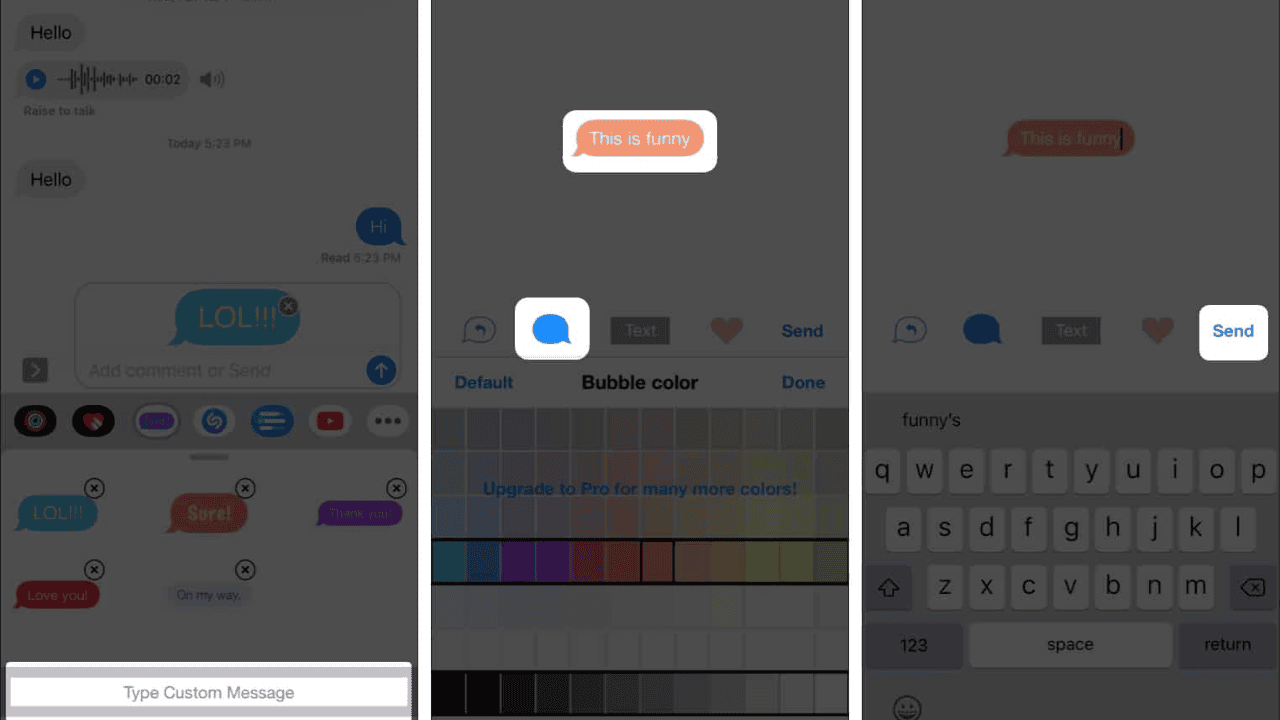 How to add screen effects to iMessage
You can also send a screen effect from the Messages app or the new interactive notifications, even from the lock screen!
Your desired message should be entered.

Press the Send button repeatedly (looks like an upward pointing arrow).

In the event that it isn't already selected, click the Screen tab at the top.

To pick between the effects you wish to use—balloons, confetti, lasers, fireworks, or shooting stars—swipe from right to left.

On the right side of your message, tap the Send button (it looks like an upward pointing arrow).
How to cancel screen effects to iMessage
You can cancel a screen effect if you change your mind by tapping the Cancel button at the bottom of your message (it looks like an X).
How to replay bubble and screen effects to iMessage
You can replay the bubble and screen effects you receive in an iMessage. Just follow these simple steps.
Enable Messages.

Wherever you want to see the impact, start the conversation.

To examine an effect again, locate a message that has one and click the Replay button.
Steps to use message effects when reduce turned motion is ON 
If you have the Reduce Motion setting turned on to reduce things like the icon parallax effect, you can still have Message effects play automatically by flipping a switch in the Accessibility settings.
On your iPad or iPhone, tap Settings.

Click on Accessibility.

Touch Motion

To play message effects even when Reduce Motion is enabled, slide the switch next to Auto-Play Message Effects to the green "on" position.
What are the uses of screen effects to iMessage
Here are all of the current screen effects and what they do.
Have your text replicate such that it fills the recipient's screen.

Put a physical spotlight on your receiving iMessages using the command "Spotlight."

Expands and launches multi-colored balloons from the bottom right corner of the screen.

Confetti: The top of the screen is covered in multi coloured confetti.

Love: Your most recent iMessage will display a huge heart that expands and pops.

Lasers: The sound and "unce, unce, unce" lasers cover the entire screen.

Fireworks: Launches multi-colored fireworks from the screen's centre.

Shooting stars: Starts a "the more you know" starburst that shoots across the screen from left to right before exploding.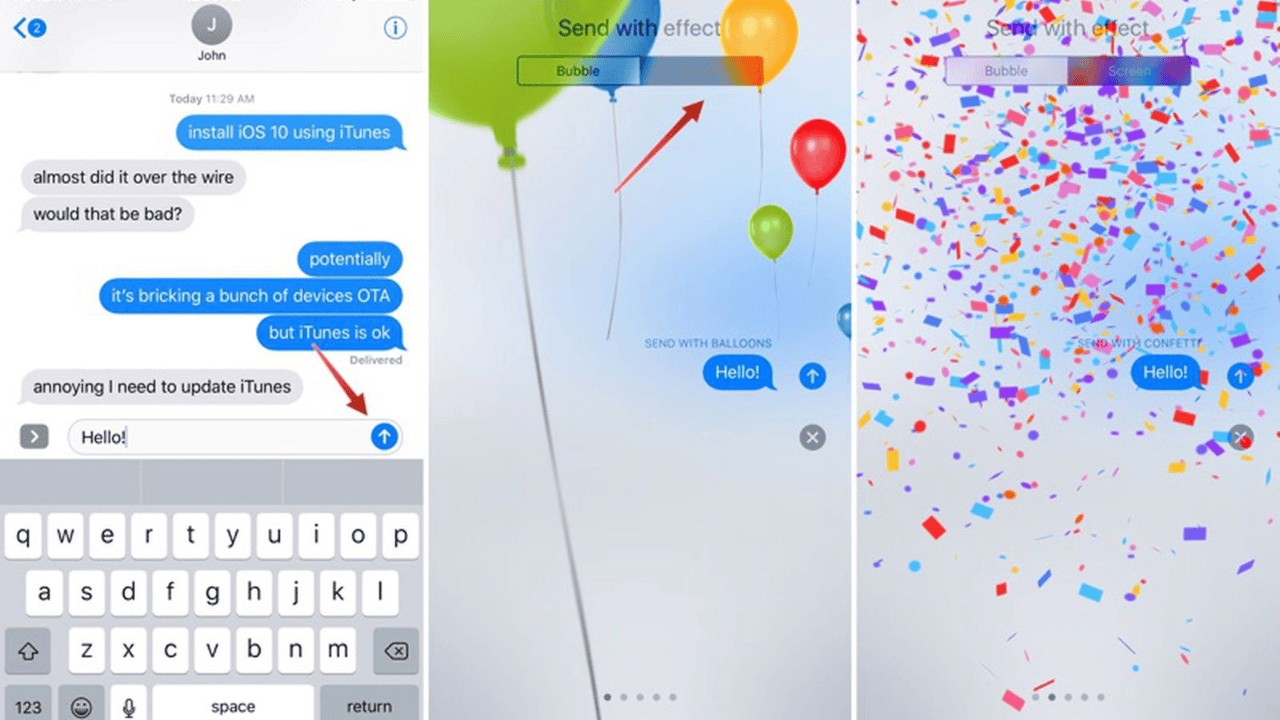 Conclusion:
It can be challenging to interpret green bubbles that indicate text messages on iOS. The green colour is improved by a function in the settings. Now, if only Apple would include RCS support. We could be waiting for some time.
Look no farther if you're a parent or guardian looking to purchase a router for your home! The WiFi router from Cleanrouter is the only router you will require for parental control purposes. It's a secure router with features like parental controls, WiFi filters, access control for WiFi, router controls, etc. You can even set time limits, receive email reports, and ban content using YouTube filters and keywords.
Also Read: 
How to Print Text Messages from iPhone using 4 Effective Methods
iPhone SE 4 Rumored to Feature a 6.1 inch notch display in 2022
How to Pair Apple Watch Ultra with iPhone
iPhone SE (2022) vs Xiaomi Redmi Note 11 Pro 5G
FAQs: 
Q1: Can you change iPhone text bubbles?
Start a new discussion or pick an ongoing conversation in the Messages app. Tap the text entry box now. Choose Color Text Bubbles on iMessage from the list of apps in the row directly above the keyboard. This will display several customisation possibilities.
Q2: What is bubble effect on iPhone?
You may use the Messages app's bubble effect to animate a single message or the full-screen effect to fill the entire message screen (for example, balloons or confetti). Even personal messages can be sent using invisible ink, which the recipient must swipe to disclose.
Q3: How do you change the text bubble color?
Open the Settings app on your Android device.

Select Accessibility from the list of options. …

Under the heading, Display, select Text and display. …

Select Color Correction from the list of options.
Q4: What color is the iMessage bubble?
One of the difficulties of her experiment was underlined by the mention of the colour of group text messages—Android users change Apple Inc.'s iMessage into green bubbles instead of blue.
Q5: Why do some texts turn blue?
A blue bubble denotes an Advanced Messaging message, indicating that the message was transmitted over Advanced Messaging. The use of a text message or multimedia message service (MMS) is indicated by a teal bubble.