Got a new Android device for Christmas? Check out these must-have apps!
So you were one of the lucky ones unwrapping a brand new Android phone or tablet this Christmas? Well, congrats! In case you're an Android novice you might scratch your head and wonder what apps you should check out. With more than a million apps on Google Play finding the must-have apps can be quite difficult. So to make your search for the needle in the "app stack" a little easier, I covered some of the best apps you should have on your device no matter what.
Communication
This sounds like a no brainer, but sometimes many forget that mobile devices were first there solely to communicate with other people and not just for gaming or binging TV shows. SMS is dying while messenger apps are fighting over the throne.
Whatsapp
With more than 400 million active users, Whatsapp is with no doubt the "alpha male" among messaging apps. Using your mobile data or Wifi connection, you're able to send not only texts but also audio messages, videos and your current location. One of the disadvantages of Whatsapp is its account restriction to one device and phone number only.
Even if you're not a fan of it, there is hardly a way around it because a significant amount of the people you know probably have it installed.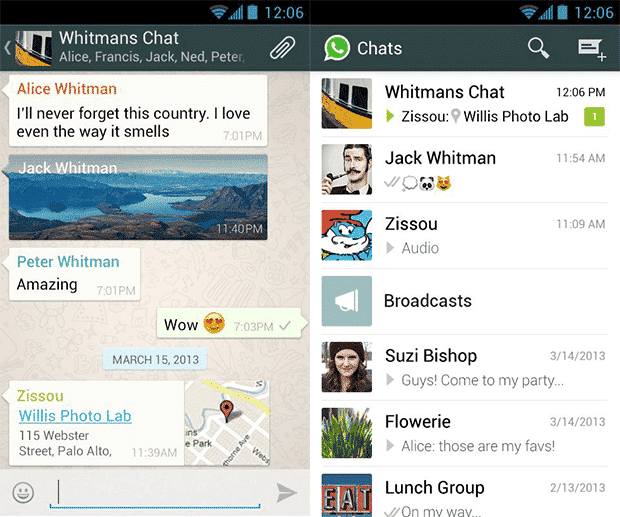 Messenger
If you and your friends are active on Facebook then Facebook Messenger is also an app you need installed. It seamlessly syncs with its iOS version and the Facebook chat in the browser. This means that you are able to write with your buddy on your PC and continue chatting on your phone or tablet without delay. With its recent design overhaul it also has a nice user interface and looks much better than it used to.
Hangouts
Although barely out of it's eggshell, Google's cross-device and cross-platform app Hangouts is a decent messaging app. Just like Facebook's Messenger it syncs fast between devices and platforms and even allows you to easily start video calls. To complete the Hangouts experience, make sure to install the Chrome extension.
Not many people are using Hangouts yet, but that's understandable considering it's not out on the market for a long time. If you want to check it out, try to get some friends to do the same. It's my favorite messenger right now, not only because it supports gif images.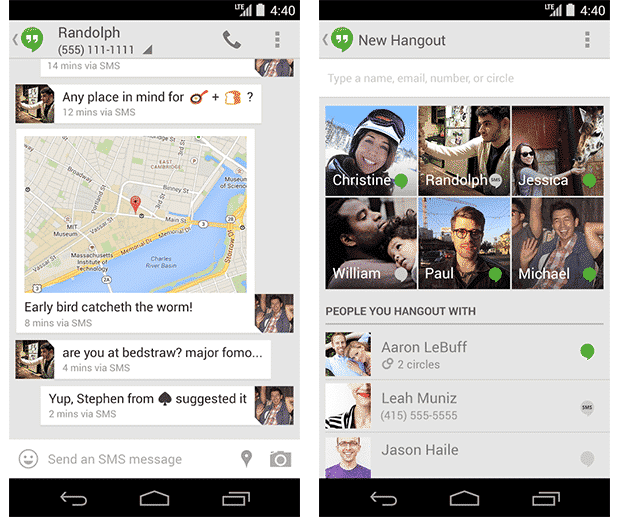 Photography
Google managed to develop a pretty decent camera app, meaning that it should cover most of your camera needs. It even has some hip filters to apply after you took a good shot (or selfie). But sometimes you just want more filters or more advanced editing features to make the best out of a picture. I use the following apps exclusively on my smartphone to avoid looking like the guy on the image below and so should you.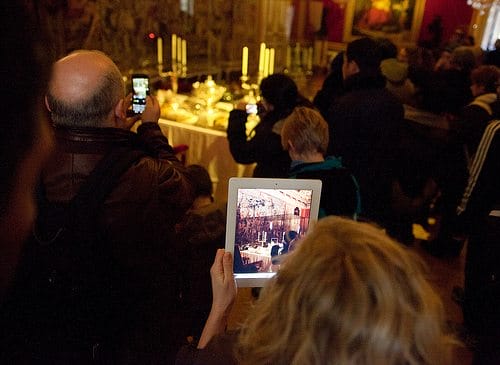 Snapseed
This image editing app, acquired by Google, is by far the best one you can get for no free. Snapseed offers many editing and tweaking features and a very intuitive user interface and controls. You basically only need to swipe your finger up and down to switch editing features and to the right or left to change the value of the selected option. It cover all the editing functions you could wish for and even more sophisticated ones such as creating tilt-shift images.
Instagram
Instagram is the most popular image sharing community out there. With its 150 million active users posting their snapshots and short videos, this app is great to explore images and discover people to follow. If you have friends who are active on Instagram, even better. You can share your pics with them and comment on their masterpieces.
VSCO Cam
VSCO Cam is all about filters. If you need a wider selection of filters than Instagram then this app is for you. It offers you many subtle filters and more control when applying them, such as changing the filter intensity. Are you a hardcore filter addict? No problem, VSCO has you covered. You can get many more in its in-app store.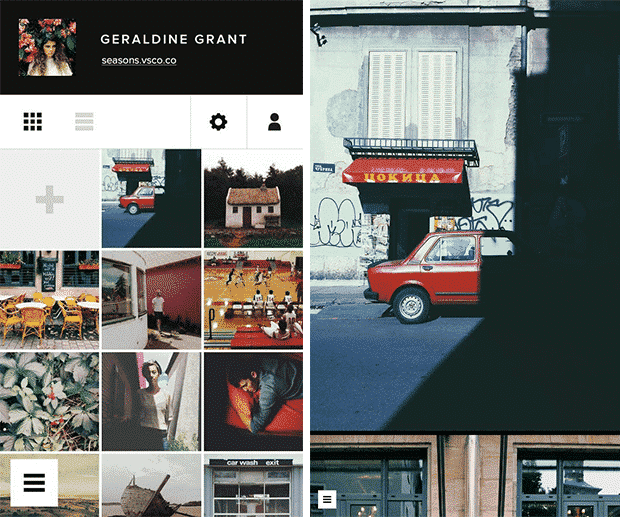 Reading
In case you got an Android tablet, you will probably end up using it a lot to read ebooks and articles on the web. Tablets, especially 7 inch models, are great to read books, magazines and articles. I'm using my Nexus 7 a lot to read and I cannot be happier with it. Below are some of the best apps in that category.
Feedly
Feedly is one of the most popular RSS news reader out there and it totally deserves the attention. It's clean interface guides you easily through all of your RSS feeds. It starts off with the most important articles of all your feeds and you can browse through them individually by swiping to the left and.
You also have the option to group several feeds into different categories. This way you can swipe through all of your news channel feeds or tech blog feeds, for example.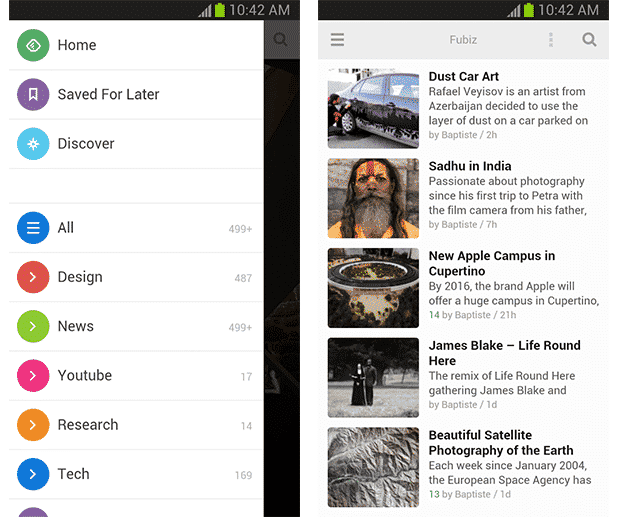 Pocket
It probably happens a lot that you stumble across a great article or blog post which you really want to read but just don't have the time for it right now. Pocket is the best tool to save such articles to read later. Create an account and make sure to install the Pocket browser extension (Chrome or Firefox) so you can easily save articles to your account. The Pocket app automatically downloads new articles so that you're able to read them on the go without needing an internet connection.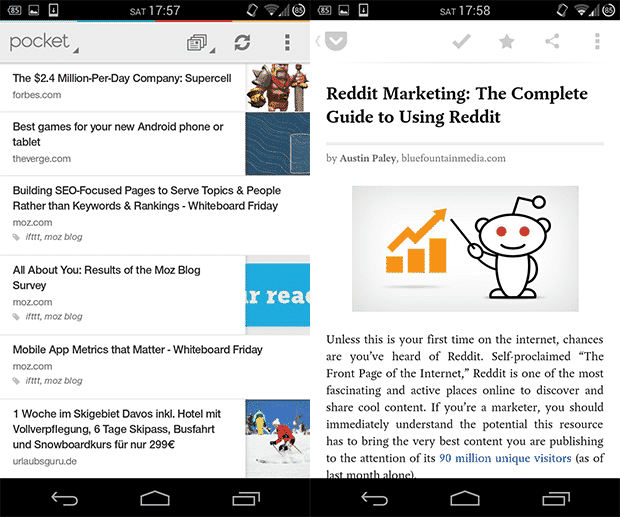 Moon+ Reader Pro
The Pro version of Moon+ Reader is the best and most customizable ebook reader you can get in Google Play. It offers many features, such as many different themes, annotations, password protection, reading statistics and the ability to customize the font in any possible way. I am using the Pro version myself and I can only recommend it. It's worth the small investment of $4.99. You have also the possibility to try the free version first before going for the pro version.
Note: Until the 1st of January, you can get Moon+ Reader Pro for only $2.49.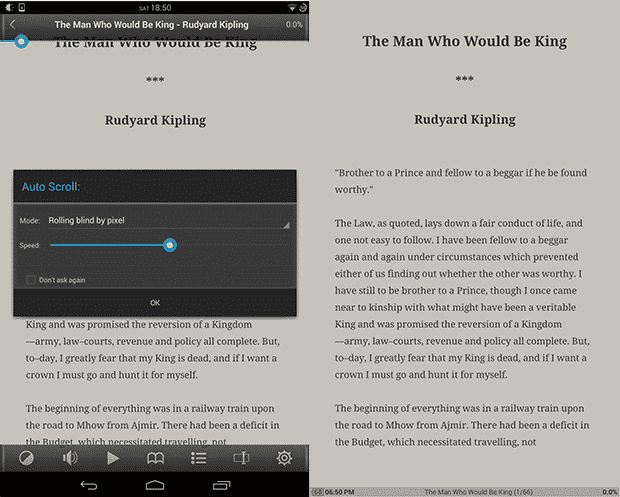 Get Moon+ Reader Pro on Google Play ($4.99)
Media (Music / Video / Podcasts)
Being able to listen to music and to watch videos or movies is definitely one of the best uses of a smartphone or tablet. This way, a long flight or train ride can be much more entertaining. Of course, that's sometimes only possible if you sit close to a power source or have a pocket charger (but that's a whole other story). Below are some of the media apps that you should have to keep you entertained.
Spotify
The music streaming service Spotify offers a great platform to listen to your favorite songs and to discover new ones. Just recently, Spotify made a smart move and opened up their mobile app to non-premium users. On tablets you can use Spotify just as you can with the Windows or Mac client. Users without a premium subscription can only listen to their music on smartphones on shuffle mode with the occasional ads.
In spite of the non-premium limitations on smartphones, Spotify is a great streaming service and it is a big leap from what was possible before that change for people using the service for free.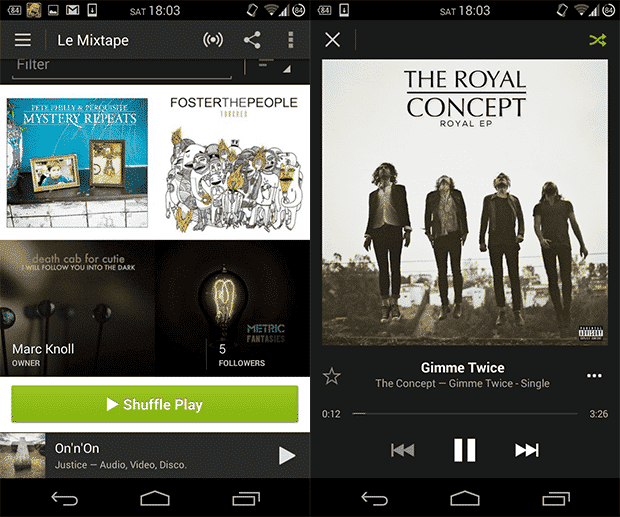 Soundcloud
Soundcloud is a highly community driven music service in which users can upload their original music, podcasts or interviews and make them available for free to others. Especially independent artists love to use Soundcloud to publish their songs.
The Soundcloud app offers a great user experience, making it easy to check out the newest tracks of followed artists, explore new music and to listen to your own playlists or liked songs.
Netflix
If you are a movie or series addict then on-demand services are your best friend. Binging a TV show or simply watching a movie is much more convenient with a great platform that offers lots of content in just a few clicks. Netflix definitely offers such a great service with its streaming platform. For a small monthly fee you get tons of movies and shows that easily covers all your needs for a long time.
One of Netflix's big advantages is their mobile app which offers an outstanding user experience, no matter if you're using it on a tablet or smartphone. Together with a Chromecast, it's even better. Simply select the movie or episode you want on your phone and tap on the Chromecast icon to stream it on your TV.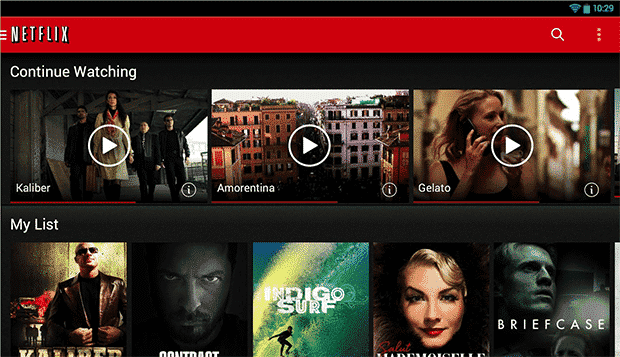 Pocket Casts
There are not many good podcast apps available for Android so far, but Pocket Casts definitely is a good choice, if not a great one. It supports both audio and video podcasts and lets you easily discover new podcasts and manage your downloaded episodes. You can set it up so that it automatically downloads new episodes and you're also able to listen to them while they're still being downloaded if you really cannot wait anymore. Although it's quite an investment with a price of $3.99 but if you regularly listen to podcasts it's really worth it.
Get Pocket Casts on Google Play ($3.99)
Productivity
Your Android phone or tablet is not only a media player or communication device. It's also your personal assistant. The following apps will keep you organized and in time for your appointments.
Evernote
This feature-rich note taking and managing app helps you keeping track of your notes, ideas and other things you want to keep safe. Evernote allows you to save text, audio files and pictures and lets you place them in different notebooks and give them tags.
The fact that your notes and its content are completely searchable so that you can quickly find what you're looking for even if you have hundreds of saved notes. Also, since it syncs all notes across all your devices and platforms, you can access them basically anywhere.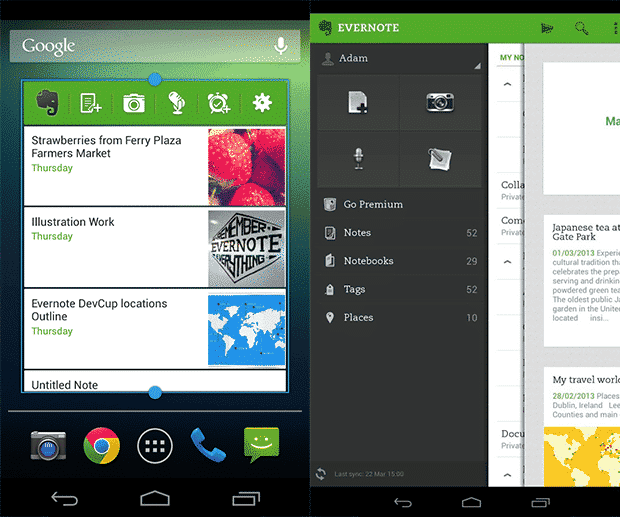 Keep
Google's cross-device note-taking app Keep might not be as complex as Evernote, but that's exactly why it's so great. Sometimes you simply need a simple and straight-forward solution to write down a thought or to-do list. Keep lets you quickly save text, audio or image notes and organizes them in a post-it style interface.
Since its last major update, you can add a reminder to your notes and even create location-based reminders. Imagine being reminded to buy milk the next time you're close to the grocery store.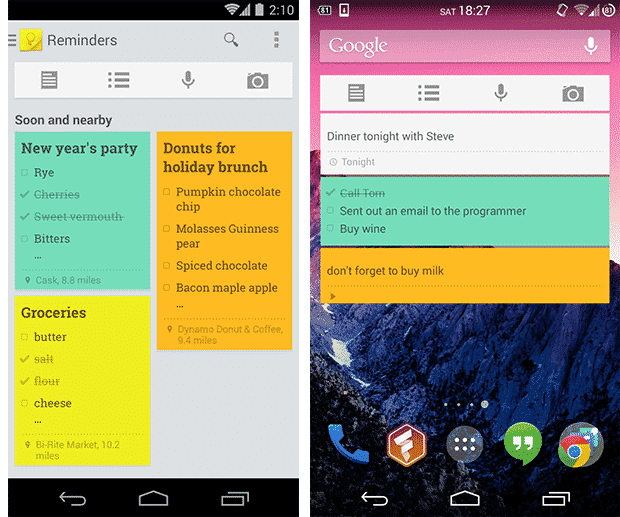 Cal
Are you not satisfied with your default calendar app? Go ahead and try Cal! Cal's great features are its very clean design and simplicity. It seamlessly syncs with all of your devices and its homescreen widget is simply beautiful. You can also connect it to the to-do app Any.Do to see all of your daily tasks directly in Cal. While creating an event you can add a location using its smart maps feature, add participants and take notes.
All of that doesn't really sound that surprising but the way in which Cal operates just takes it a new level of coherent and clean design. Even the event notification is a beauty. If you appreciate clean and good design then Cal is the best option for you.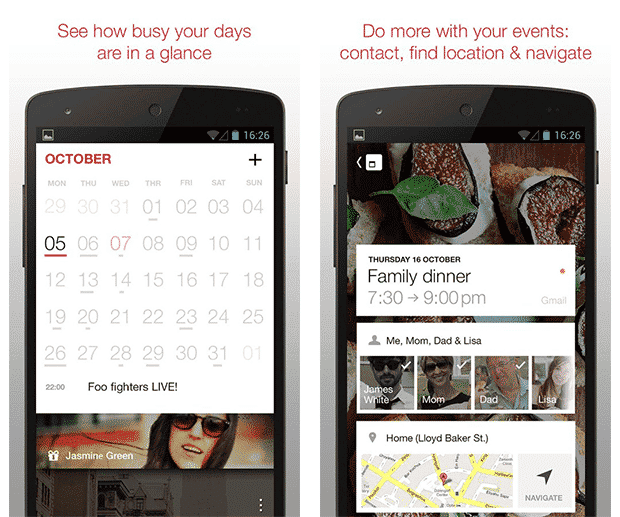 Get Cal on Google Play
Dropbox
Most people already use or at least know the file hosting service Dropbox. It's one of the best ways to store important files online or share them with others. Having Dropbox installed on your mobile devices has some significant advantages. You can access all of your Dropbox files without having them all stored locally on your phone or tablet. You simply download the file you need and that's it. That saves a lot of space.
You can also use Dropbox to automatically upload the pictures you take to keep them safe in case you lose your phone or accidentally wipe all of your data. This image upload function can even help you get your device back in case it got stolen.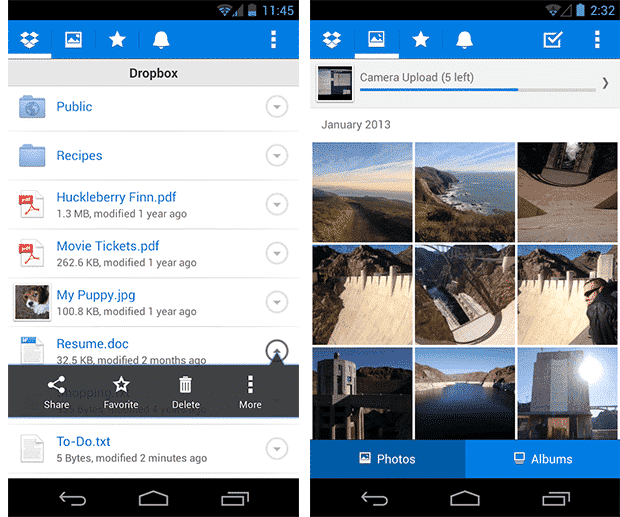 Last words
As already mentioned, with over a million apps it's very difficult to find all the apps you need to cover your needs. The featured apps in this post are a good starting point. Test them out yourself and enjoy your new Android smartphone, tablet or both.
What are your must-have apps and did I forget any? Let me know in the comments!
Image courtesy of Rhys A.