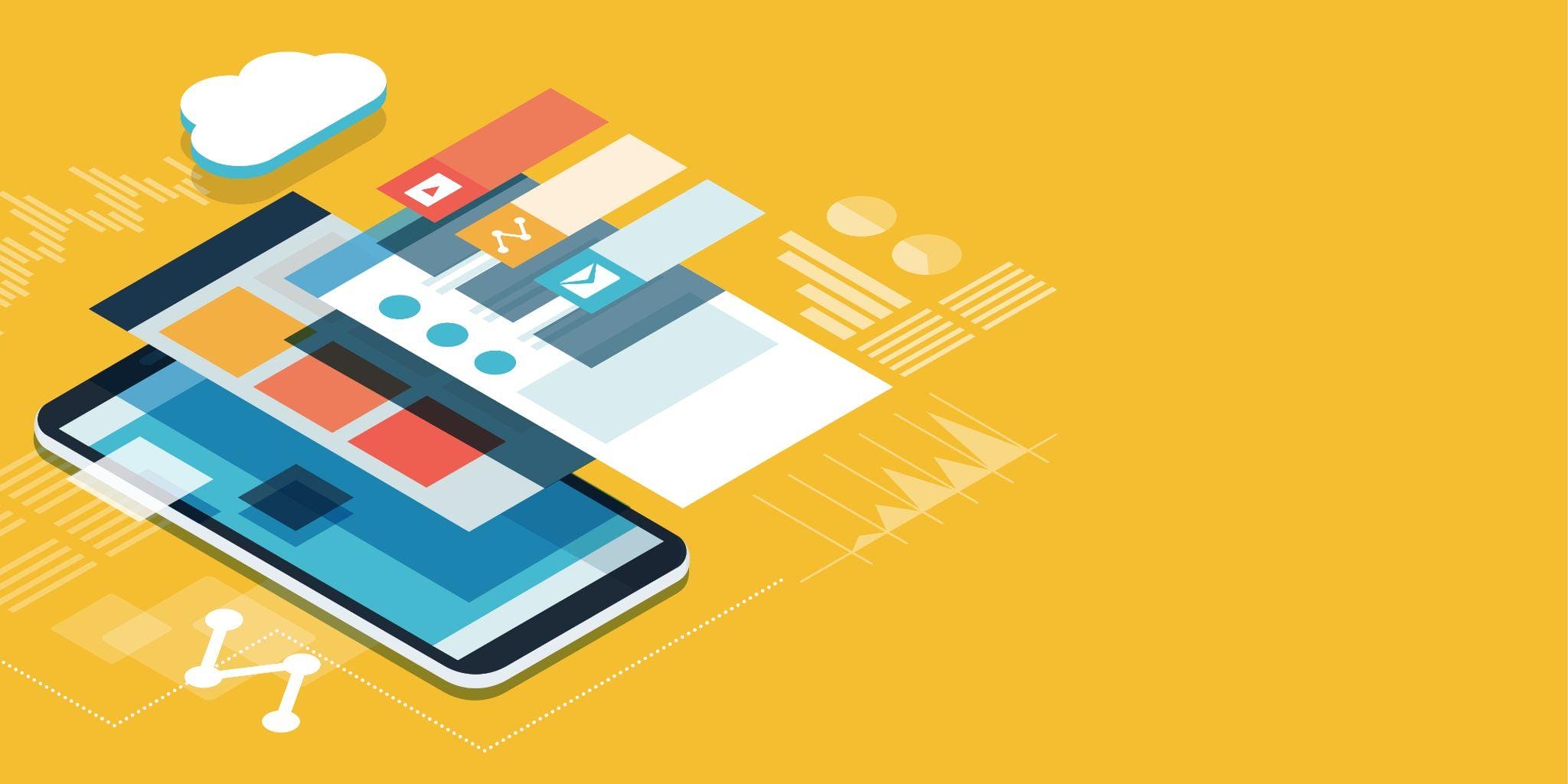 Two years of being in lockdown and being predominantly reliant on our personal tech to get us through all the many facets of our iso days has more or less transformed our relationship with our phones and personal tech. Many consumers and app developers alike have been feeling a shared sense of fatigue over highly familiar user interfaces, expressing a dire need for a breath of fresh air.
As a result, mobile app development is set to feel a little different in 2022. Developers are set to move further away from app design practices that conform to the boxy limitations of your phone's screen, amongst its other inorganic elements. Mobile apps will likely grow to feel more fluid and organic in their UI, as UI designers find alternative ways to present information engagingly.
So what can we expect from mobile apps in 2022? We'll be looking at some of the most rapidly growing mobile app design trends below.
Multi-Directional Navigation
Menu-based user interfaces which traditionally require users to scroll vertically through static menus are being traded in for more dynamic systems which offer multi-directional navigation. Multi-directional navigation can incorporate both vertical and horizontal scrolling amongst other interactions to not just expand upon a menu, but also to transform it.
Horizontal navigation can be particularly valuable for displaying content based by category or type, which is precisely why you're more likely to come across horizontal menu options in retail apps. There are a few other industries trialling their own versions of horizontal menu options as a means of segmenting content on the one page and thus, limiting the total amount of pages that they'll have to include on their app.
Similarly, instead of tapping to move from page to page, swiping and other in-app gestures are going to continue being key for navigation. Seamless movement from one section of a page to another over static taps to move from page to page will allow apps to feel more fluid, both with regards to information presentation as well as due to the fact that adding all of your app's information to one or two pages will drastically decrease time that your app users will spend waiting on pages to load.
Animated Interactions with Icons
Just as multi-directional navigation may allow users to interact with icons and elements that may grow smaller or larger in size as you scroll past them, adding effects to other passive or active interactions with elements may also help keep users engaged while using your app. Whilst there are many ways to use animations in mobile app development, animated responses from icon interactions have been garnering the most positive attention from beta testing throughout 2021. It's likely that many app developers will continue putting their own whimsical animations into active interactions with app icons.
Common animations may include pulsating or jittery buttons that effectively entice users to interact with them, or even including elements that flip over when they're tapped to provide app users with more information, like cue cards. Even information triggered by icon interactions can be animated, like graphs, user tutorial prompts, or progress meters in fitness tracking, banking, or investing apps.
Illustrations with Character
Alongside looking to boost the fluidity of their designs, UI designers have also been experimenting with ways to make apps feel a little less technical and a bit more organic and personable, bridging the gap between a designed environment and the humans who made that environment for other humans. Apps with character are likely to have a far more satisfied and thus, a more consistent user base over apps that lack a brand identity.
Enter hand-drawn illustrations and unique graphics! You'll be more likely to find highly engaging and character-rich illustrations in a growing number of your mobile apps in 2022, as UI testing has revealed that app users respond positively to the incorporation of illustrations or graphics that guide them through their user journey. In this regard, illustrations that follow a set narrative may also help to cultivate a sense of multi-dimensionality for users as they can provide both extra context and celebration as they further explore your app's user interface.
Apps with illustrations and personalised graphics are also likely to have a stronger brand identity than competitor apps, so taking the time to source some engaging imagery for your app may help boost your customer conversion and retention rates too.
Transparent Elements
App developers have been favouring using softer elements over opaque and boldly coloured buttons as a means of maximising available screen space in their user interface. Transparent elements essentially allow app users to interact with information without having to sacrifice on their visibility of the rest of that particular page.
Alongside this, transparent elements and icons may add an extra sense of depth to your app's design, which make transparent elements particularly valuable for apps that are information dense but are looking to cultivate an ethereal and easygoing user experience to balance out their content (think investing apps). As transparent elements are still considered to be a highly subversive addition to modern app design, it likely won't be as popular as some of the other trends on this list, but it's well worth keeping your eye out for them anyway!
Development of Companion Widgets
Since the release of iOS 14 in 2020 and Apple's introduction of widgets, both Android and iOS app developers have been avidly at work trying to create the perfect companion widgets possible with all the development tools and design options that are available to them. Widgets have well and truly opened up a world of possibilities when it comes to bringing app functionality into the user's everyday routine.
The past year or so of trial and error has seen app developers create some truly fantastic app widgets, some of which have fulfilled developers' ambitions to see that widget be interacted with and redirect users to their mobile apps on a near-daily basis. App developers who are still putting the finishing touches on their own widgets will continue to experiment with these fantastic little UX elements over 2022, so get ready to expect some exciting widget updates for virtually all the personal wellness apps and other apps you expect to use on a routine basis.
Advancements in Accessibility
As app development is in truth a highly collaborative global discipline, app developers tend to develop and incorporate new features and elements in waves. Some of these waves over the past few years have included security updates (like the introduction of multi-factor authentication), and personalisation updates (i.e. the development of user profiles) to name a few.
Now, with Face ID and fingerprint scanners becoming more commonplace on even entry-level handsets, more and more apps are including these features to provide app users with a means of keeping their app data secure, or simplifying app procedures like processing card payments. On top of boosting general convenience, however, these additional hardware features are actually helping app developers boost the accessibility of their apps as well.
Face ID and fingerprint scanners allow users with impaired mobility or dexterity to navigate and undertake app procedures with ease. The incorporation of voice recognition capabilities also allows app developers to provide voice navigation alternatives to users who may prefer interacting with the app in this way.
~
As mobile apps are likely to grow more fluid across 2022, chances are users will also grow to expect their apps to feel a lot more organic over these next few years. We'll be likely to see many more single-page mobile apps that utilise fluid multi-directional navigation, intuitive animated prompts and responses, and an increasingly diverse array of accessibility options so that users can customise their app experience to suit their particular needs.