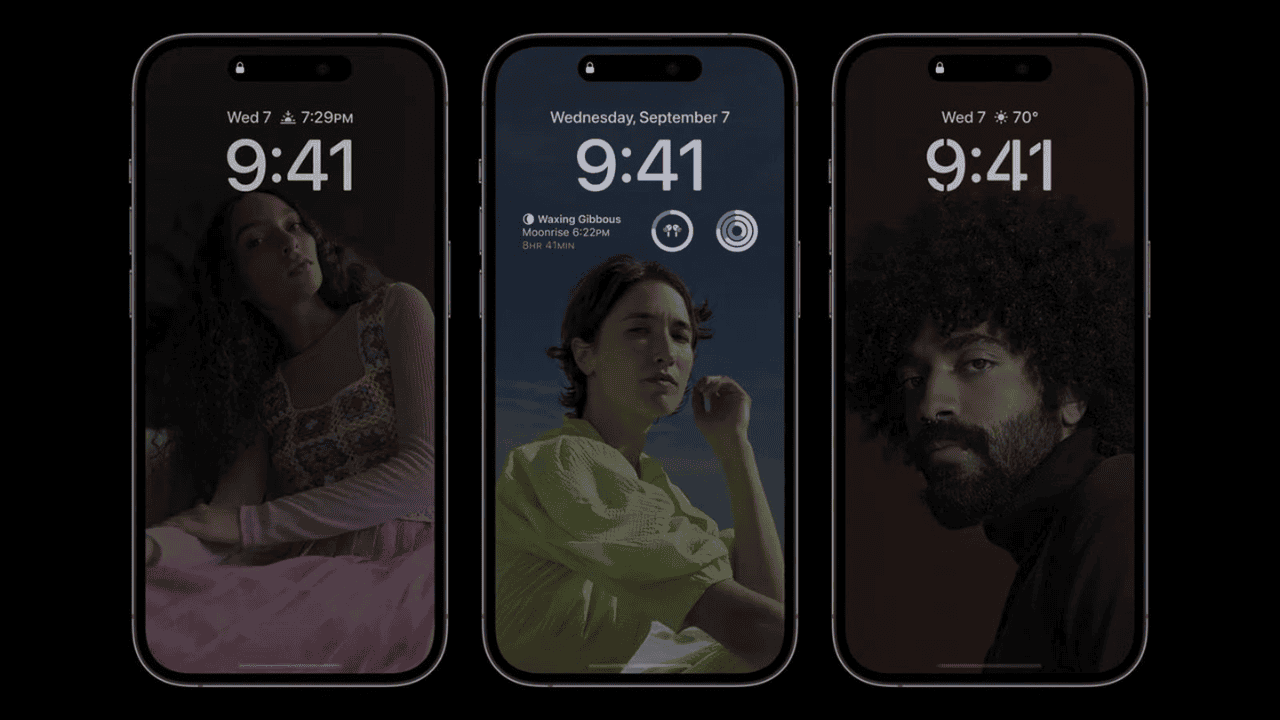 How to Set up Always-On Display on iPhone 14 Pro
Set up Always-On Display on iPhone 14 Pro, In September of 2022, Apple introduced the iPhone 14 series. Cupertino hardly updated their standard models this time around. At the same time, the iPhone 14 Pro have experienced some of the most significant enhancements in the line's history. These new Pro iPhones have a 48MP Wide camera sensor, a revamped Dynamic Island, and Always-On Display (AOD) compatibility.
Set-up Always-On Display on iPhone 14 Pro
The iPhone's Always-On Display has a brighter aesthetic than what's often seen on Android phones. In order to be more faithful to the concept of "always on," rather than receiving a completely black screen with the time and notifications shown, your wallpaper just dims. Some have criticised it for being overly simplistic, glaringly bright, or obtrusive. Many users, however, have commented on how much better it appears now. Follow these steps to activate the AOD function on your iPhone 14 Pro or Pro Max.
Turn On Always-On Display on iPhone 14 Pro
Before we start, make sure you have an iPhone 14 Pro or iPhone 14 Pro Max. The regular iPhone 14 and 14 Plus are incompatible with this feature.
Open the system preferences menu.

The brightness and display settings can be accessed there.

The Always On switch is located below.

Put the power on permanently.

Voila! The Always-On Display mode will now be activated whenever your iPhone enters sleep mode. As of yet, Apple hasn't started letting consumers tweak this view independently. As a result, the AOD mode will consistently look like a darkened version of your standard Lock Screen. Changing the AOD requires modifying the Lock Screen.
Unsurprisingly, the battery life will suffer if you turn on the Always-On Display. If your iPhone's battery life isn't satisfactory, you may want to consider turning this feature off. At the end of the day, you may always give it a try for a few days to see if you enjoy it. To turn it off, just do what we said above. Remember to obtain a case for your new iPhone 14 Pro to preserve its fragile glass back and sides.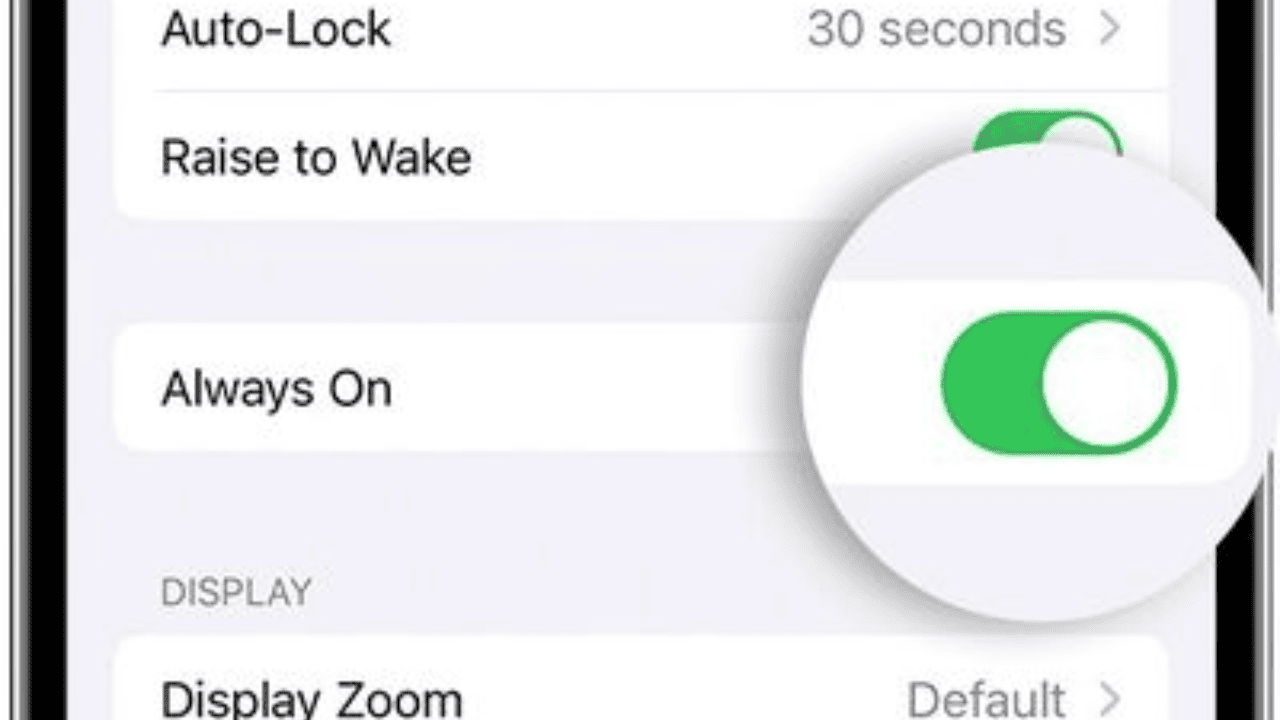 Turn off AOD on iPhone 14 Pro
If you're like me, and you want to disable the AOD feature on your iPhone, here's how to do that:
Adjust the screen's brightness and contrast via the menus.

Toggle 'Always On' on in this section.
Locking the screen and putting your iPhone 14 to sleep will no longer trigger the always-on display feature. If you find the new AOD feature to be too much of a nuisance, you can benefit greatly from this.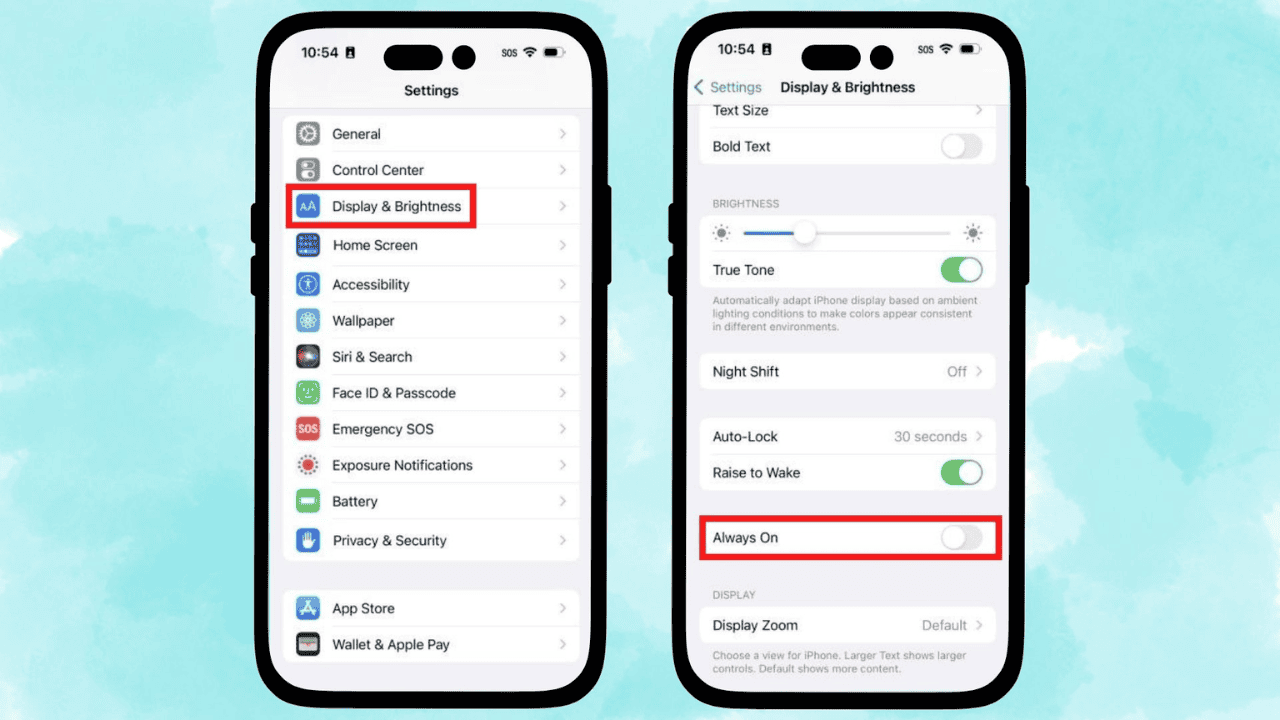 Best Wallpapers to Use with Always On Display
Due to the fact that this is an Apple product, switching from a normal on-screen display to an always-on one is accompanied by a few of fun animations. In addition, some backgrounds complement the always-on screen exceptionally well. The finest wallpapers for the iPhone 14 Pro's AOD are as follows.
Pride Wallpaper
With AOD, the Pride wallpaper is the top pick for wallpaper. It is not only visually stunning, but also dynamic and visually appealing thanks to the AOD. In addition, it coordinates elegantly with the iPhone's lock screen when you unlock the device.
Astronomy
The Astronomy backgrounds complement the always on display really nicely. Changing from one phase to the other of the display triggers subtle movements of the earth (or the moon), and the clock also fades in and out of view.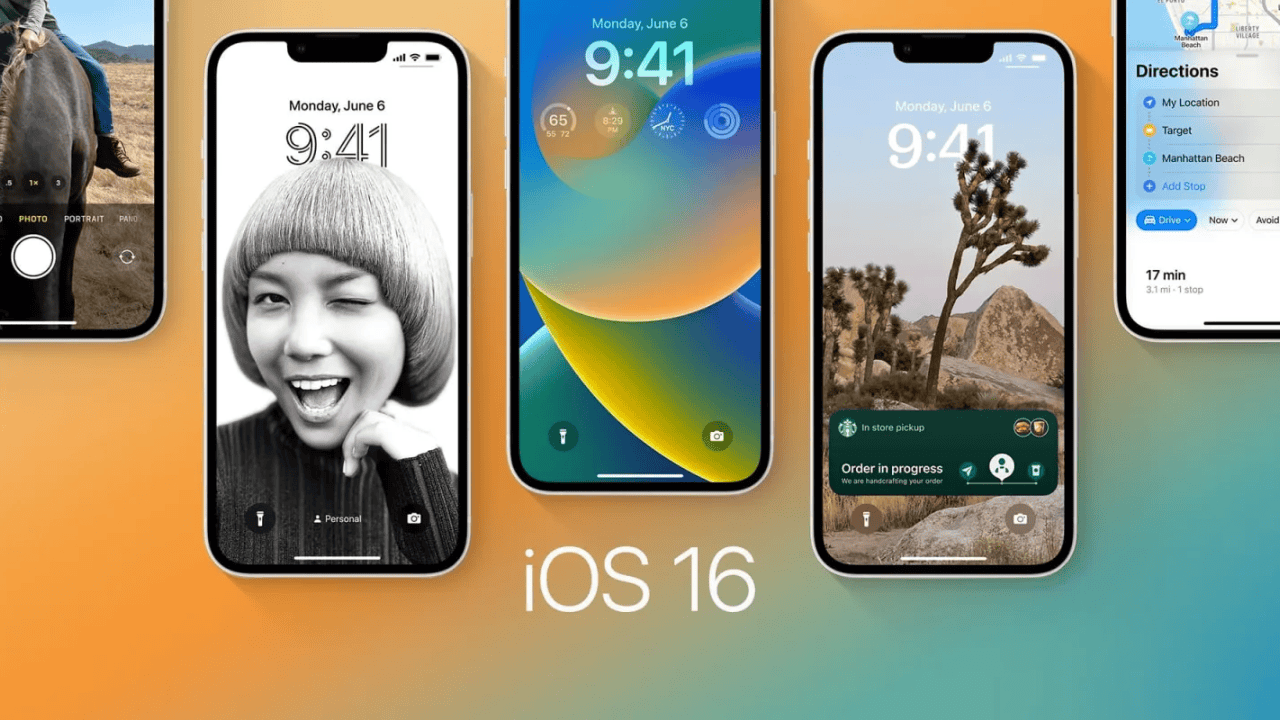 Also Read: 
How to Passcode Lock an App on iPhone
How to put your iPhone or iPad into recovery mode
6 Top Comparisons Google Pixel 7 Vs iPhone 14 Including Display, Design
How to Update Airpods 2 Firmware Without iPhone Using Quick and Easy Ways
Frequently Asked Questions
Q1: Does the Always On Display Turn off Automatically?
The iPhone AOD turns off automatically in two conditions. When you put your iPhone in your pocket, it turns off the always on screen. Plus, if you're wearing an Apple Watch and you walk away from your iPhone, it will turn off the always on display as well. This is great to ensure that your wallpaper and widgets are not visible to anyone on accident when you're away from your iPhone.
Q2: Can I customise the iPhone Always on Display?
As of right now, iOS 16 does not offer any customisation for the always on display. You can either enable or disable it, and that's all. Hopefully, Apple will allow users to customise their AOD with future updates, but it is Apple, so this might just be a pipe dream.
Q3: Does AOD impact battery life?
In our limited testing so far, we can't conclusively say if the always on display impacts the battery life of the iPhone 14 Pro. However, there will probably be a fairly evident impact on battery life with AOD because the Apple Watch always on display also affects its battery life by quite a bit.
Q4:What is always-on display iPhone 14 Pro?
In this way, you can see events without having to activate your screen or wake up your phone. This, though, is the huge "but" for me. The iPhone 14 Pro and Pro Max fall short if you value the always-on display as a tool for work.