A few months ago we were scared that the Android Silver Project might replace the Google Nexus series. Earlier today, a Dutch Android blog leaked GFXBench and AnTuTu benchmark results. It looks like we can expect another great Nexus device later this year manufactured by Motorola. This is what we can expect:
Snapdragon 805 chipset clocked at 2.65 GHz
Andreno 420 graphic chipset
3 GB of RAM
5,2″ QHD display – 1440 x 2560 pixels
13 MP camera, 2.1 MP front-facing
Android L release
Given that the Nexus 6 – or whatever the name will be – can be regarded as Google's Android L release flagship phone, the leaked specs suggest that Google is going for the full 60 FPS experience on a stunning display. In fact, packing a qHD resolution in a 5.2″ display will bring a higher ppi rate as other current flagship phones such as the LG G3. With recent rumours of a 5.9″ display, this sounds like good news for many people.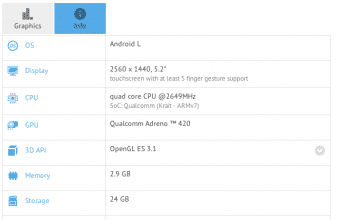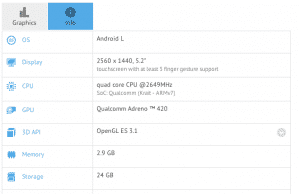 The big question, however, is how much capacity the battery will bring. Looking at previous Nexus devices, we can expect no removable battery. One of the biggest complaints in the Nexus series has always been battery life, so I'm really curious if Google will step up their game and finally add a decent sized battery to the new Google flagship phone. I sincerely hope that the combination of Android L release battery optimisations and the new Snapdragon chipset will result in a decent battery life.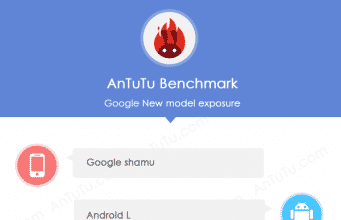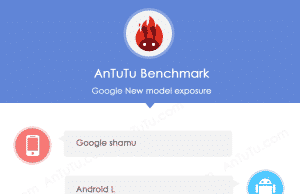 All in all this phone looks quite promising and I'm reconsidering buying a LG G3. Especially the combination of a powerful device with stock Android is really interesting. If Google sticks to their natural product cycle, I expect this phone to be announced by the end of October and released later in November. Other details such as price are not clear yet, but we'll keep you updated on this topic.
How do you like the next Nexus phone leaks?