Spotify's Car Thing app didn't last long. In the spring of 2021, the car accessory was made public. It made the Spotify app on your phone easier to use. It wasn't very useful, and as we said in our review, it was better to just use your phone, which you had to have with you anyway.
Late in July of this year, the biggest music streaming service said that Car Thing would no longer be a thing. As soon as the news came out, Spotify had a fire sale and cut the price of the accessory from $90 to $45, which is a 50% discount.
If you didn't buy the accessory right away because you wanted to wait, you can now get it for even less. As part of its "Back to School" sale, Spotify is selling the Car Thing for only $30. That's a huge $60 off its original price of $90.
If you're still interested in the accessory, this might be the deal you don't want to miss. Car Thing is no longer made, so once Spotify's stock is gone, it's unlikely that the deal will come back. Unlike the last deal, this one doesn't require a coupon code. Just go to the Spotify store and buy it.
Also Read: How Can You Disable Automatic Startup Of Spotify In Windows
What is the Spotify Car Thing?
Spotify Car Thing is a device made by the music streaming service Spotify that lets users access and control their Spotify music and podcasts while driving. It can connect to the user's car via Bluetooth or an AUX cable, and it can be controlled by voice commands or buttons.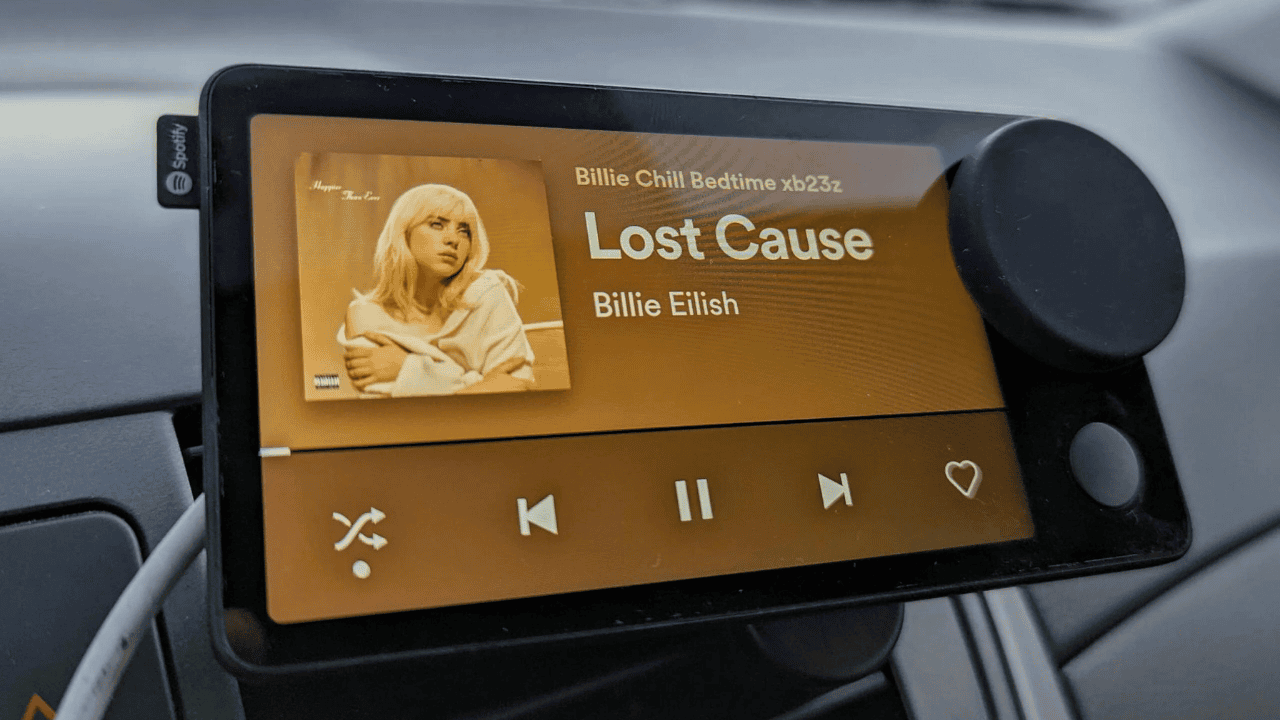 The device has a small screen that shows album art, information about songs, and other things. Spotify Car Thing was made so that drivers could listen to their music and other audio content while driving more easily and safely.
What Features Does Spotify Car Thing Provide?
Before now, people thought that Spotify Car Thing was a remote music player for your car that only worked with Spotify. But the most recent update makes the Car Thing much more than what it was originally advertised as. It has become a complicated tool that you can use while driving.
In an interview with MUO, Andreas Cedborg, Head of Hardware for Spotify, said that this is especially helpful for people with older cars that don't have as modern entertainment systems. Saying "Hey Spotify" before a voice command lets you do most of these things without using your hands. This helps and makes things safer.
All of Spotify's new features will be helpful, and users are already praising the update. iOS devices are getting new features that let users answer calls and control other media apps. They will come out later for Android users. Here are some things you can do with Spotify Car Thing now.
1. Answering the Phone Calls
With the software update, users can now see calls coming in on their phones right on the Spotify Car Thing. So long as your phone is Bluetooth-connected to your Car Thing, the calls you get will show up on the screen. On the screen, you'll see the caller's name and number, as well as two big buttons that let you accept or reject the call.
2. Taking Control of Other Media
The ability to control other media apps is one of the most important parts of this update. This is a big step towards making the Car Thing useful for more than just Spotify. Car Thing will act as an audio output as long as your connected phone is playing music or videos. You can play, pause, and skip tracks.
Also Read: Spotify Wrapped 2022 is right here! How to check my Spotify Wrapped 2022?
3. Put Songs on the Queue
More than anything else, Car Thing users wanted to be able to add songs or podcasts to the queue from the device. This would be easy to do on a phone, but that's not what this device is for. You can add new things to the queue in a few different ways.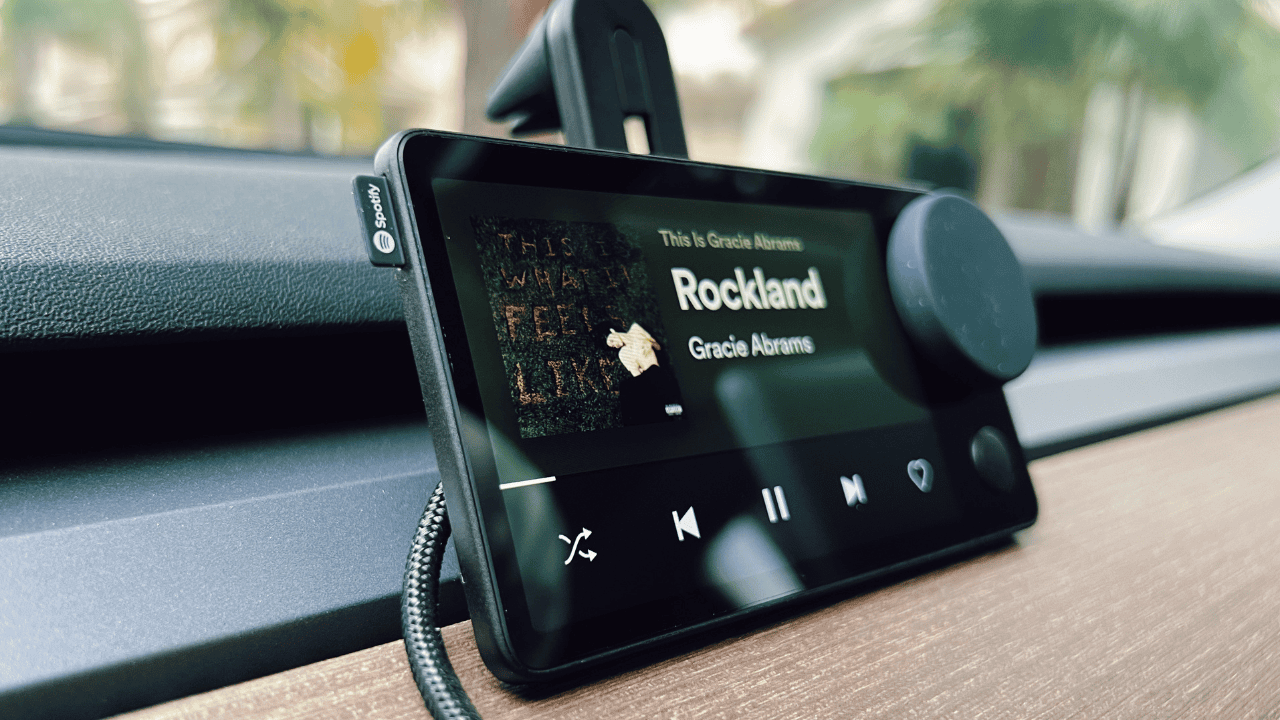 The first way is to tap the "Add to Queue" icon next to a song in your list. Use the dial to choose something else. Most of the time, to play a song, you press the dial once. You can add a track to the queue by pressing and holding the dial when a song is highlighted.
You probably should pay more attention to the road, and you can't always mess with Car Thing with your hands. You can use your voice instead. Just tell Spotify, "Hey, add [name of song] to my queue." Car Thing can also show your queue if you talk to it. Saying "Hey Spotify, open my queue" will bring up all the songs on your list. In "Now Playing" mode, you can also press and hold the dial button.
4. Voice Request Playlists
Since Spotify has a lot of playlists for different activities and feelings, it makes sense to be able to request these kinds of songs on the Car Thing. You just have to ask for the kind of music you want to hear. You could say, "Hey Spotify, play music for a lazy Sunday" or "Hey Spotify, play 90s rock." Spotify's Car Thing can help you find music to listen to if you don't know what to listen to.
Challenges Spotify's Car Thing has to Face
Spotify is the best at streaming music, but when it made a device for the car, it had to compete with Apple CarPlay and Android Auto, which both have billions of devices that work with them. Spotify said that its device wasn't made to compete with these entertainment systems. Instead, it was made to make it easier for people to listen to music or podcasts, especially in older cars.
But Car Thing didn't have the same features as the other infotainment devices, like the ability to find your way or make phone calls. This made it harder to see why you'd need a device just for music. People who listened for free had to switch to a plan that cost money. Paul Vogel, the CFO of Spotify, told investors some day that pricing, inflation, and a shortage of chips made it hard to get parts.
Also Read: The Best Discord Music Bots – Rythm Killed in 2021 and Banned by Youtube, Following Groovy
Conclusion
The company has also said that the device will still work even though it is no longer made. If you take advantage of the deal, remember that the accessory will only work with Spotify Premium. If your car doesn't have Android Auto or CarPlay and you like Spotify, you might want to get the Car Thing.
At least its high-quality construction and easy-to-use navigation interface will make the dashboard of your car more interesting. The "Add to queue" feature is a helpful addition to this latest feature drop. According to Spotify, it was one of the most-requested features.
It lets people put more songs and podcasts in their queues. You can use this in three different ways. The first is to tap the "add to queue" icon next to a song. The second way is to use the jog dial to choose "add to queue." The third way is to ask the Spotify voice assistant to do it. Spotify says that voice commands like "Hey Spotify, list [name of song]" or "Hey Spotify, open my list" will work with the device.